It's Better To Be Feared: the New England Patriots' Dynasty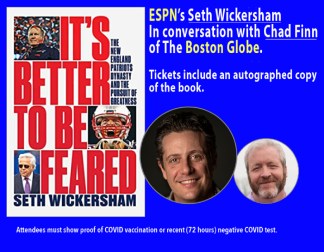 10-11-21
The Bull Run Speaker Series
It's Better To Be Feared:
The New England Patriots' Dynasty and the Pursuit of Greatness
Author Seth Wickersham
Seth Wickersham in conversation with Chad Finn of The Boston Globe, hosted by Paul Swydan of The Silver Unicorn Bookstore in Acton, Mass.
The New England Patriots are the greatest football team ever, and Seth Wickersham has been there since the beginning of the Pats' dynasty. He has been writing for ESPN since 2000, which is coincidentally the same year that Bill Belichick and Tom Brady arrived in New England. Seth's writing has won multiple awards and been anthologized in multiple books on magazine writing, and he has broken or helped break several important stories about the Patriots over the years.
It's Better To Be Feared is going to be one of the biggest and most important sports books of the year, and we'll have Seth here the day before the book releases. Attendees will get an autographed copy of the book with their ticket, and additional copies will be available for sale, courtesy of The Silver Unicorn.
With Seth will be Chad Finn, who has been chronicling Boston sports and sports media for more than 20 years, and for The Boston Globe for more than a decade. In addition to chronicling sports media nationally and in the region, Chad is one of our foremost authorities on the Patriots, Red Sox and Celtics.
Join us for an amazing night of talking Patriots football and celebrating Seth's new book with two of the most knowledgeable sports writers around.
Doors open at 5 pm, event starts at 7 pm. Ticket price includes an autographed copy of Seth Wickersham's book!
IMPORTANT NOTE

:

PROOF OF VACCINATION OR NEGATIVE COVID TEST WITHIN 72 HOURS IS REQUIRED FOR ENTRY TO THIS EVENT.
About the book:
"Seth Wickersham has managed to do the impossible: he has pulled off the definitive document of the Belichick/Brady dynasty."
—Bill Simmons, The Ringer
"A tour de force. You think you know everything, or almost everything, about the Patriots' dynasty? You don't, and you won't, until you read It's Better to Be Feared."
- Peter King, NBC Sports
"Seth Wickersham has broken open the black box that is the New England Patriots franchise under Bill Belichick. ... It's a beautifully written narrative on top of unprecedented access." - Sally Jenkins, columnist, Washington Post
"This deeply informed and fluent book is about what it takes to succeed in the ruthless, cruel, often euphoric world of the NFL. Yes, this is about football. But above all it's about personalities and mindsets and the confluence of striving, skill, and luck in the making of success." - Rick Telander, columnist, Chicago Sun-Times
"Seth Wickersham's prose soars in this fascinating study of two of the most iconic figures in sports history, and the New England Patriots dynasty they helped build." - Kevin Merida, executive editor of the Los Angeles Times
"That the New England Patriots were not only the greatest team of all time but also the luckiest is once again demonstrated by the fact that Seth Wickersham has become their biographer. You still might not like Brady and Belichick after reading this book, but you will admire them -- and most amazingly of all, you will see glimpses of yourself." - Tom Junod, two-time National Magazine Award winner
"Best book I've read on the Patriots dynasty. You won't wanna miss this one." (on Twitter) - Albert Breer, senior NFL reporter, the MMQB/NBC Sports Boston
"You're going to want to DEVOUR this!" (on Twitter) - Don Van Natta Jr., senior writer, ESPN
"Seth provides remarkable insight into Bill Belichick and the Patriots in this book." (on Twitter) - Bruce Feldman, reporter, FOX Sports