John Nemeth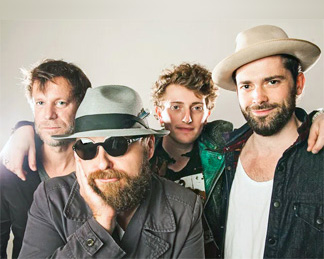 2-27-2020

John Nemeth is a man on the move. He had already established himself among the very top ranks of blues musicians and modern soul singers when he decided to break the mold with his new record, "Feelin' Freaky." Nemeth fearlessly crushes all barriers of style and genre with an album of original songs that defies all the usual pigeonholes. Drawing from his strong influences in blues and R&B, as well as contemporary sounds in hip hop and rock & roll, John creates music that is personal as well as universal, and owes its origin to no one but John Nemeth. John's songs are groove and melody-driven, laced with thoughtful lyrics and nuanced humor.

Coming up, John played harp and sang in local bands, often opening the show for nationally touring blues acts. He soon caught the ear of established blues musicians and before long he was releasing his own CDs – "The Jack of Harps" (2002) and "Come and Get it" (2004), featuring Junior Watson – and performing in Junior Watson's band. John relocated to San Francisco in 2004, where he wound up doing a two-year stint with Anson Funderburgh and the Rockets, filling in for the ailing Sam Myers.

John signed a recording contract with Blind Pig Records. His national debut for that label – "Magic Touch (2007), produced by Anson Funderburgh and featuring Junior Watson on guitar, was hailed as the new voice of the Blues. In 2008 Németh was recruited by Elvin Bishop to do some performances and contribute four vocal tracks to his Grammy-nominated album.
In 2013 John relocated to Memphis where he quickly became a key player in the city's rich musical scene. He teamed up with producer Scott Bomar and his classic Memphis Soul band, The Bo-Keys to create an album of revisited Soul classics, "Memphis Grease" (2014), which debuted at #4 on the Billboard Blues Chart. John won the 2104 Blues Music Award in the Soul Blues Male Artist category, and Memphis took the prize for Soul Blues Album in 2015.

"John Nemeth was, for me, the true show-stealer. His set was blistering and perfectly pitched… Nemeth is clearly a guy to catch and get to know.." - Elmore Magazine
"One of the best vocalist working today, John Németh continues to be one of the top-tier performers for soul & blues music." - Blues Blast

"He's my idea of an up-and-coming blues singer. I don't see a lot of them out there, but I know one when I see him." - Elvin Bishop

OPENER: Bees Deluxe - A full-tilt, acid blues collective comprised of Boston-based musicians. Their unique repertoire includes originals and re-interpreted 60s, 70s, and 80s covers.