The Jon Butcher Axis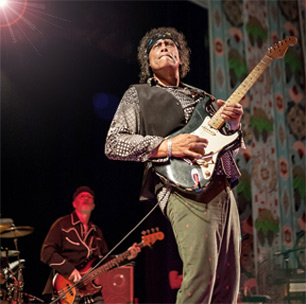 9-24-2022 (Sawtelle Room)

2019 marked the 40th anniversary of The JON BUTCHER AXIS and it was a whirlwind year of sold out shows and more!

As founder of "The Jon Butcher Axis" (Chris Martin, John Anthony, Jon Butcher), Grammy nominee Jon Butcher has earned his place in music history. A discography of 20 national and international releases, MTV and VH1 music videos are the underpinnings of a supercharged music career that continues today. The year 2020 promises to be yet another exciting chapter of a band who's history is at this point, legendary.

Jon's entire recording catalogue resists easy categorization. His acoustic guitar work [acoustic guitar, dobro, mandolin, banjo] has found its way into feature films, cable TV, and into his live concert schedule, and is a major component into understanding where he comes from. Including appearances with the Experience Hendrix Tour and at Fenway Park for the Boston Red Sox, Jon's output is more diverse than ever!

Part of the 40th anniversary celebration includes the digitally re-mastered and re-packaged 'The Jon Butcher Axis' and 'Stare at the Sun' albums, both recently released by the UK's Escape Music Group and delighting Axis fans around the world for the first time since their original release decades ago. The two releases, containing such hits as "Life Takes a Life" and "Ocean in Motion" have been given a complete re-tooling, and are just what longtime fans have been asking for.

Jon's Artist Mgt/ Music Production entity Electric Factory continues to provide film score, soundtrack and music licensing for television and film including Shameless (Showtime Network) The Simpsons (FOX), Six Feet Under (HBO), The Sopranos (HBO), Deadwood (HBO), United States of Tara (Showtime), Ugly Betty (ABC), My Name Is Earl (NBC), The Life and Times of Buffalo Bill (A+E) and many more.