Kerrville North - February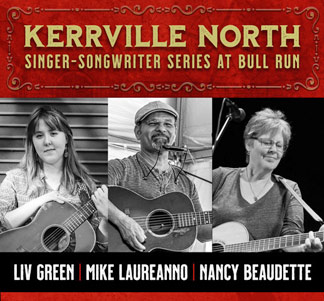 2/20/2020
Please join us for our new acoustic music series, Kerrville North, with three amazing singer/songwriters Liv Greene, Mike Laureanno and Nancy Beaudette.
Liv Greene is an Americana singer/songwriter based in Boston, MA, whose music delivers vivid, poignant, lyrics by way of honeyed vocals and tasteful guitar and banjo accompaniment. Greene is a graduate of

Interlochen Arts Academy

, in Northern Michigan, where she studied songwriting for her senior year of high school. She graduated in 2016 with high honors, a

Fine Arts Award in songwriting

, and the songwriting department's

Artist of the Year Award

. In 2019, Greene won the Kerrville Folk Festival's New Folk Competition for

Emerging Singer-Songwriters

,

Mike Laureanno hails from Fall River, MA, an old mill-town infamous for its axe wielding resident Lizzie Borden and famous for its chow mein sandwiches and pork pies. A passionate performer, Mike's songs are visceral and evocative. Dave Palmater, Folk-DJ of WUMB Boston Public Radio, calls Mike Fall River's poet laureate. Mike is proud of his roots and many of his songs deal with his gritty blue-collar hometown and the lives of his family and friends. He was a winner of the

2017 Wildflower, TX songwriting contest

, the 2016

Woody Guthrie songwriting contest

and a

2016 Kerrville New Folk, TX finalist

.
Nancy Beaudette: Blending brave and honest songwriting, first-rate musicianship and a huge helping of native Canadian wit, Nancy is an artist of songs and heart. She was raised near Cornwall, Ontario, a place sustained by farming and millwork where French and English languages were friendly neighbours. Her songwriting delves into those roots, weaving a nostalgic past into lush songs of familial history, good-humored folly and poignant observations of life and loss. Over the past few years Nancy has been a Winner or Finalist in some of the music industries most distinguished competitions including

Grassy Hill Kerrville New Folk Finalist

in 2019,

Mountain Stage New Song Competition

,

Mid-Atlantic Song Contest

,

Great American Song Contest

and the

Independent Music Awards

.