Kerrville North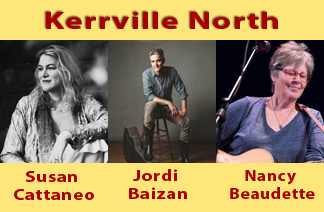 11/13/2019
Please join us for the kickoff to our new acoustic music series, Kerrville North, with three amazing singer/songwriters Susan Cattaneo, Jordi Baizan and Nancy Beaudette.
Susan Cattaneo is one of Boston's most respected singer-songwriters. Respectful of tradition, but not bound by it, Susan blends rock, folk and blues with a healthy dose of country. Call it New England Americana with a twang. In 2018, she was nominated for

Best Americana Artist in the Boston Music Awards

, and she performed and won the

Connecticut Folk Festival

. Her latest album "The Hammer and The Heart" charted #1 on the

Billboard Heatseekers

chart and yielded a #1 song on folk radio and a top 10 album of 2017. Over the past three years, she was a finalist or winner at some of the country's most prestigious songwriting and music contests including:

Kerrville's New Folk Contest

(2018 and 2015), the

Philadelphia Songwriters Project

and at the

Wildflower Festival Songwriters Contest

, the

International Acoustic Music Awards

, the Independent Music, the

5 Unsigned Only Song Contest

, the

USA Songwriting Competition

, the

Mountain Stage New Song Contest

and the

Mid-Atlantic Song Contest

.
Jordi Baizan is a first generation American and native Texan songwriter. His songwriting has garnered him recognition from several prestigious songwriting competitions including the

Grassy Hill Kerrville New Folk Songwriting Competition

, the

Songwriter Serenade Competition,

and the

South Florida Folk Festival's Singer/Songwriter Competition

. Recently signed by

Berkalin Records

, label owner Brian J. Kalinec says "Jordi's songs convey authenticity perfectly intertwined with memorable melodies. His unique voice and his stories draw you in from the beginning, and you can't wait to hear the next page." Walt Wilkins, the producer of "Free and Fine", Baizan's new record (June 2019), says "This is a beautiful record, full of grown-up but still joyous & hopeful songs by a true artist & deep soul."
Nancy Beaudette: Blending brave and honest songwriting, first-rate musicianship and a huge helping of native Canadian wit, Nancy is an artist of songs and heart. She was raised near Cornwall, Ontario, a place sustained by farming and millwork where French and English languages were friendly neighbours. Her songwriting delves into those roots, weaving a nostalgic past into lush songs of familial history, good-humored folly and poignant observations of life and loss. Over the past few years Nancy has been a Winner or Finalist in some of the music industries most distinguished competitions including

Grassy Hill Kerrville New Folk Finalist

in 2019,

Mountain Stage New Song Competition

,

Mid-Atlantic Song Contest

,

Great American Song Contest

and the

Independent Music Awards

.