MassMouth All Stars Storytelling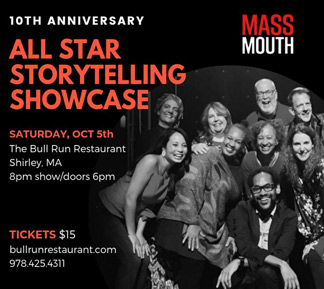 10-5-2019
Like a good story?
Come laugh, cry and be entertained by some of Boston's most engaging storytellers at Massmouth's 10th Anniversary All Stars performance.
Massmouth, Boston's premier storytelling organization, is celebrating its 10th year of bringing people together through the art of storytelling. Come enjoy an evening featuring some of the area's most talented storytellers including Alison Tocci, The Bull Run's Innkeeper and storyteller on the national media program Stories From The Stage produced in partnership between WORLD channel, WGBH and Massmouth.
Massmouth organizes storytelling events throughout Greater Boston including competitive slams and custom events. The organization also offers community and corporate storytelling workshops and individual coaching.

Six tellers who have advanced through multiple rounds of competition will share their true, personal stories that won them a spot as one of Boston's storytelling champions.

Dinner & drinks available pre-show.