Richard Shindell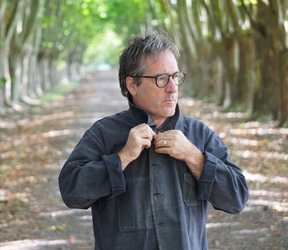 8-2-2019
Originally from New York, now dividing his time between Buenos Aires, Argentina and New York's Hudson Valley, Richard Shindell is a writer whose songs paint pictures, tell stories, juxtapose ideas and images, inhabit characters, vividly evoking entire worlds along the way and expanding our sense of just what it is a song may be. From his first record,

Sparrow's Point

(1992) to his current release,

Careless

(September 2016), Shindell has explored the possibilities offered by this most elastic and variable of cultural confections: the song.
Taking up the guitar at the age of eight, Richard listened to Beatles, Dylan, Joni Mitchell, Motown, Bowie, Hunter-Garcia, King-Goffin, Paul Simon, Bill Monroe, Rogers & Hammerstein. Their songs gave the impression of having always been there, so solid and self-evident were their melodies, hooks, grooves, and lyrics. He later began frequenting a well-known songwriters circle on Houston Street in New York City. Hosted by the late Jack Hardy, where every Thursday night writers would gather to debut new songs. It was a tough but supportive crowd. And it was right about then that

Shanachie Records

called with an offer for a three record deal, which resulted in

Sparrows Point

(1992),

Blue Divide

(1994) and

Reunion Hill

(1997). The latter, produced by multi-instrumentalist Larry Campbell, won the

AFIM (NAIRD) award

for "Best Contemporary Folk Album" in 1998. Its title track was covered (along with two other of Shindell's songs) by Joan Baez on her 1997 release,

Gone From Danger

. In 1998, Shindell joined forces with Dar Williams and Lucy Kaplansky to make Cry Cry Cry (Razor and Tie), a collection of covers by writers such as Robert Earl Keen, Michael Stipe, Ron Sexsmith, Greg Brown, Julie Miller, and James Keelaghan. Over the course of two years, the group toured in support of this highly acclaimed (and eponymously titled) album, leaving audiences spellbound by their gorgeous three-part harmonies.
The year 2000 brought the release of one of Shindell's most popular albums,

Somewhere Near Paterson

(Signature Sounds), produced by Campbell. And that year Richard, with his Argentine wife and their two small children, moved to Buenos Aires, Argentina. Taking a few years to get acclimated and learn the language, he followed up with

Vuelta

(Koch Records), joining with Puente Celeste, an eclectic and much beloved group of virtuoso Argentine musicians. Then came South of

Delia

(2007),

Not Far Now

and

13 Songs You May or May Not Have Heard Before

, which The Telegraph (UK) called "a stunningly good record."
In 2015 he joined forces again with Lucy Kaplansky to record

Tomorrow You're Going

(Signature Sounds). Consisting mostly of love songs, or love lost songs, it provided Shindell and Kaplansky an occasion to revel in their distinctive, two-part harmony with the backing of a top-notch band (Byron Isaacs, Dennis McDermott, Bill Payne and Campbell).
Shindell continues to tour nationally in the United States, with the occasional forays into Canada, the UK, and Europe. Although known primarily as songwriter, Shindell takes a more holistic view of his career. Producer, writer, singer, guitarist, interpreter: it all adds up to a life in music.