Sophie B. Hawkins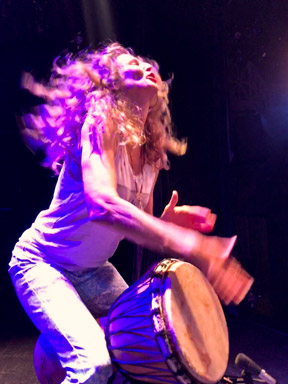 4-11-2019
Sophie B. Hawkins is a Grammy nominated, American singer-songwriter and accomplished musician with more than thirty years in the music industry.

Hawkins's debut album,

Tongues and Tails

, released in 1992 achieved both worldwide commercial success (certified Gold) and critical acclaim, earning her a

Grammy nomination

for Best New Artist and six

New York Music Awards

in 1993. The single "Damn I Wish I Was Your Lover" spent months in the top ten on the Billboard singles chart in the USA and in the UK. Hawkins covered Bob Dylan's "I Want You" on Tongues and Tails and was invited to perform for

Bob Dylan's 30th anniversary at Madison Square Garden

. The concert and the corresponding album included

Neil Young

,

Eric Clapton

,

Johnny Cash

,

Lou Reed

and

Willie Nelson

.

Whaler

, Hawkins second album, was released in 1994 and was certified gold. It included the US Top 10 hit and ASCAP award winning song "As I Lay Me Down." Three singles from the album made the UK and Dutch Top 40 Singles charts one of which was "Right Beside You." Both "As I Lay Me Down" and "Lose Your Way" from Hawkins third album,

Timbre

, were famously featured on the TV show

Dawson's Creek

. On her 2004 album

Wilderness

, Hawkins demonstrated her extraordinary talents as a musician as well as singer and songwriter playing guitar, cello, keyboard, drums and a variety of percussion instruments - a recording that

Rolling Stone

singled out for its "dreamy charm."
Hawkins' 2006

Bad Kitty Board Mix

was recorded live in at

The Triple Door

in Seattle and at

The Basement

in Sydney, Australia. It captured the vibrant energy and intimate storytelling that fans love about Hawkins shows. In 2012, Hawkins released

The Crossing

that included "The Land, The Sea and The Sky." The video of which documented her direct participation in the clean up of the BP oil spill in the Gulf. She donated and continues to donate all the proceeds from the song to

The Watershed Alliance

, a non-profit organization that works to keep the Earth's water clean. "Dream Street & Chance" was just one of the jazzy, modern torch songs that defined the album. She also starred as Janis Joplin in the play

Room 105

. Critics praised her performance and wrote "it was a part she was born to play." The following year, Hawkins starred as herself and performed on the TV series

Community

. Her music has been featured in classic films such as

40 Days and 40 Nights

,

Bounce

,

New Years Eve

,

Mrs. Winterbourne

,

Now and Then

and

The Associate

and major television shows such as

The Blacklist

,

Dawson's Creek

,

Party of Five

and

Northern Lights

.

After moving back from Los Angeles to New York, Hawkins authored her own play with original music and is working on its production. She has written and recorded new music to be released in early 2019. Hawkins has been a steadfast supporter of women's rights, the LGBTQ community, animal and environmental protection throughout her life and career.

** "Meet & Greet" available for an additional $30 per ticket. Use the dropdown menu to choose "Ticket + Meet & Greet." - Exclusive opportunity to meet Sophie B. Hawkins in person and receive a personalized, autographed 8"x10" photo OR a matted, autographed limited edition print of one of of Sophie's paintings.