Gracie Curran & the High Falutin' Band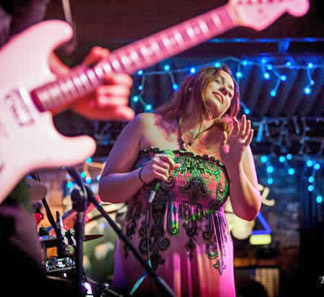 2-6-2022
Occasionally a vocalist comes along with such presence that they command everyones undivided attention. Such is the case with Bostons Gracie Curran. She has earned her reputation for jaw dropping Blues & Soul in every blues club and juke joint from Boston to Beale Street. There is nothing subtle in her booming big mama voice. Her band and the addition of a horn section match her soulful vocal energy, hanging in and driving her along on their musical excursion. Taking a line sometimes trod by Etta, Janis and Shemekia, Gracie drives a high pulse and drains the emotional bucket dry.
A

Blues Music Award Nominee

,

Boston Music Award Winner

and house band at the world famous

Rum Boogie Cafe

on Beale Street in Memphis, Tennessee, Curran has a contagious enthusiasm, incredibly fun live show, and is quickly becoming one of the most exciting entertainers on the roots scene today.
In the five years since the release of her critically acclaimed debut album "Proof of Love", the singer has been packing venues across the country and around the world, wowing audiences with her stunning voice and soul shaking delivery. Proof of Love possesses equal parts throwback soul and roadhouse swagger. Her highly anticipated sophomore release "Come Undone" with producer Damon Fowler, is due out soon.

Important: ALL TICKETED SHOWS AT BULL RUN REQUIRE PROOF OF VACCINATION or PROOF OF NEGATIVE PCR COVID 19 TEST WITHIN 72 HOURS OF PERFORMANCE.