Jontavious Willis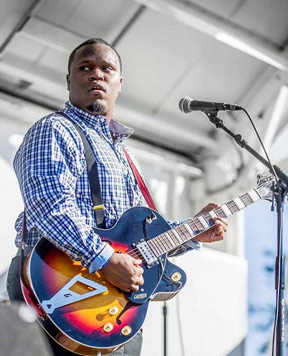 2-28-2019
Every Generation or so a young bluesman bursts onto the scene. Someone who sends a jolt through blues lovers. Someone who has mastered the craft for sure, but who also has the blues deep down in his heart and soul. At the age of 21, bluesman Jontavious Willis may be the one.
In his 2016 debut album, "Blue Metamorphosis," Willis ranges from Delta, Piedmont and Texas blues to gospel, garnishing positive reviews from such notable magazines as

Living Blues

and

Blues & Rhythm

. You can hear him on guitar, harmonica, banjo and cigar box, fingerpicking, flat-picking and playing slide. And these days you can see him everywhere from his front porch in Greenville, Georgia, to national stages as he opens for Taj Mahal and Keb' Mo'.
"That's my Wonderboy, the Wunderkind. [Jontavious] is a great new voice of the twenty-first century in the acoustic blues. I just love the way he plays." — Taj Mahal
"Only a few like him emerge every decade or so, when even the most hard core blues fans realize immediately that this is the real deal." Living Blues Magazine

OPENER: Erin Harpe - Erin Harpe has been called "one of the most dynamic, talented and exciting roots rocking blues women on the scene" by

Living Blues Magazine

. Winner of the

2018 Boston Blues Challenge

, and nominated for 2018 "Blues Artist of the Year" by the

Boston Music Awards

, Erin is having an exciting year. Brought up on delta and piedmont blues, which she learned from her dad, Erin recently entered and won the

Boston Blues Challenge

playing solo.