The Bruce Marshall Group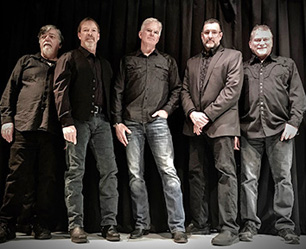 4-13-2019
The Bruce Marshall Group returns to the Sawtelle Room, their first appearance here since their CD release party extravaganza last spring. The 5 piece band is at the top of their game, coming off a busy 2018 with the release of "Borrowed Time", their 7th CD. If you missed them last time, pick up the new disc and the rest of their catalog night of show! With an original catalog miles deep they'll touch on their trademark Swing Blues, R and B, Americana, Roots, Rock...
Bruce played with Toy Caldwell of the Marshall Tucker Band and will pay tribute to his old boss who would have turned 70 this year.
Join Bruce, Dave Cournoyer on Guitar, Vocals, Steve Roberge on Sax, Harp, Vocals, Glenn DiTommaso on Bass and Pete Premo on drums as they play tunes from all of their releases. You can always expect other "surprises" at these shows..
Kicking off the evening is rising star and local treasure, Dwayne Haggins. His new CD melds Country Blues, R and B and Americana. His voice is soulful and expressive and uniquely his own and his originals tell captivating stories about the human experience. We're very excited about his debut here!