Bruce Marshall Group: CD Release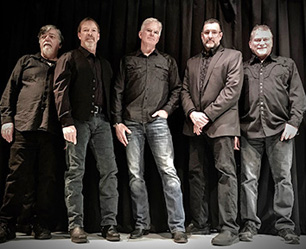 5-6-2018
Join us for the official release of the latest Bruce Marshall Group CD, "Borrowed Time."
Bruce Marshall was on the road for most of the 80's with

Bruce Marshall and the Clue

, a popular Boston based band that recorded an album on ATM records in '88 and was also featured on numerous compilations. In '89 Bruce took a break from the band to join forces with Toy Caldwell of the Marshall Tucker Band and they hit the road, playing throughout the US in support of

Lynyrd Skynyrd

,

Charlie Daniels

and

the Outlaws

. The Toy Caldwell band recorded one of Bruce's originals with noted producer Paul Hornsby. Bruce worked on their major label debut, "Toy Caldwell, Son of the South" on Cabin Fever Records. In the early 90's, Bruce formed a duo with old friend James Montgomery and they released 2 live CD's and continue to perform on a regular basis.
The Bruce Marshall Group

emerged in 1991 and their live shows treat their fans to a soaring ride as they rip through a catalog of original material that truly sets this band apart. They love to mix it up, whether it's pulling off exciting jams that build with dynamics and layering, or playing the concise arrangements of their songs with discipline and taste. The sound defies categorization, slipping seamlessly around touches of Blues, R&B, Rock and Southern Boogie. The interplay between Bruce and longtime guitarist Dave Cournoyer is the heart and soul of their performances and they always deliver.
Their first CD, "Love of the Ride", was released in '92 and featured 10 new originals, including the song performed by the Toy Caldwell Band, and the ASCAP songwriter award winning "If Dreams Were Money." "Sneak Preview Volume 2," followed in '97," "Kalispell" in 2003 and "Misspent Youth" in 2010. And their new CD, "Borrowed Time," (just released) has 12 songs that are all about the blues, from Jump to the Delta. The Band is smokin' hot and the songcraft is top notch. They'll play the cd in its entirety and have giveaways and other surprises at the show. Get your tix now!