The Vanessa Collier Band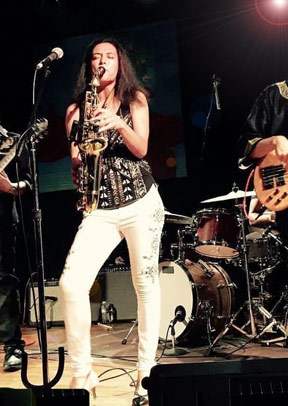 11-24-2019
2019 Blues Music Award Winner for "Instrumentalist of the Year - Horn"
2019 Nominee for "Best Contemporary Female Blues Artist" 5-time BMA Nominee overall

"There's this young lady [Vanessa Collier] came onstage with me, I forget where I was, but she's playing an alto saxophone, and man, she was amazing." Buddy Guy

If you haven't been fortunate enough to meet Vanessa and witness one of her head-turning, fiery, and passionate performances, you should definitely make sure you do. As a master musician and multi-instrumentalist, Vanessa, weaves blues, funk, soul and rock into every powerful performance and she is downright impressive. With soulful vocals, searing saxophone and witty songwriting, Vanessa is blazing a trail, racking up an impressive arsenal of honours, and has already singled herself out as an artist of distinction - one we would all do well to watch.

It's not surprising that the press has been quick to commend her efforts as well.

Blues Blast Magazine

affirms, "Vanessa Collier is a fresh face on the American blues scene, and in addition to her soulful vocals, she brings a mighty sax to the table..."

Blues Music Magazine

proclaims, "Collier is a fresh face who comes to the blues stage carrying her reed instruments, a dual degree from Berklee College of Music in Boston, a major label debut, almost two years of touring with Joe Louis Walker, and a mature musical vision… Collier commands center stage with her vocals, soloing, and stage presence."

Midwest Record

exclaims, "This bluesy singing sax player knows how to bring the slinking funk to her captivating, award winning sound that has echoes in young Bonnie Raitt/Maria Muldaur vocal sounds… Killer stuff on every level, this sounds like one of the reasons you first became a music fan. Killer stuff." and

AXS.Com

declares that she "might as well go ahead and add another shelf to her trophy case because clearly, she's going to need it. With a voice that often recalls that of blues-rock stalwart Bonnie Raitt, Collier turns up the heat..."

"I am driven to do this because I find it a total form of expression and connection," she explains. "I love connecting with an audience and feeling their energy and I hope to inspire people to follow their dreams and passions, to find what brings them joy, and then to pursue it doggedly." And she takes that message to young people as she runs clinics across the country and is active with

Blues in the Schools

programs.