Beatlemania Now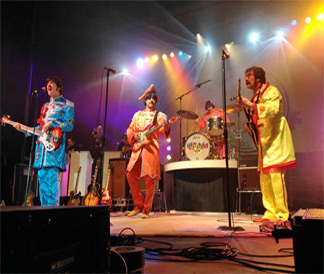 4-27-2018
Doing a special show celebrating the 50th Anniversary of the "Sgt. Pepper" and "Magical Mystery Tour" albums.
Beatlemania Now will meticulously perform incredible note for note renditions of Beatles' classics from Sgt. Pepper's Lonely Hearts Club Band and Magical Mystery Tour albums, including some songs the Beatles themselves never performed outside the recording studio.
Hear it… See it… Believe it…
Beatlemania Now is the ultimate celebration of the epic and unequaled music of The Beatles; an amazing concert experience as seen on Broadway and around the world.
Recapture the excitement, the mood and the frantic intensity as Beatlemania Now performs live-on-stage against a backdrop of stunning images which evoke memories of some ot the most turbulent decades of modern times… the 60s and 70s! Flashback to historic moments of space exploration, protests in the streets, the raging war in Vietnam, "Flower Power" and "Peace and Love" in the lives and deaths of Martin Luther King Jr., John F. Kennedy and Robert F. Kennedy; and the politics of Lyndon B. Johnson and Richard M. Nixon.
Beatlemania Now is a must hear and see experience of all ages!
Watch the VIDEO