Anthony Geraci and the Hipnotics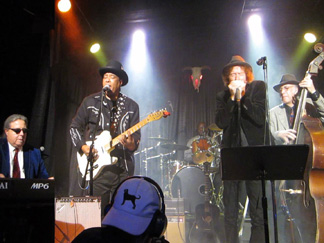 11-11-2017
Anthony Geraci and the HipNotics are a new Blues/Roots ensemble comprised of some of Boston's most beloved Musicians!
Anthony Geraci is a founding member of Sugar Ray and the Bluetones, and Ronnie Earl and the Broadasters. He's been nominated the last two years for the prestigious Pinetop Perkins Piano Award by the Blues Foundation in Memphis, TN. He has also been on over forty recordings bringing his distinctive piano/ Hammond Organ work to Artists like Kenny Neal, Ronnie Earl, Big Walter Horton, Debbie Davies, Big Jack Johnson, Sugaray Rayford. He was the pianist on the Grammy Nominated Super Harps I that features James Cotton, Charlie Musselwhite, Sugar Ray Norcia and Billy Branch. His most recent recording Fifty Shades Of Blues earned nominations from the Blues foundation for Album of the Year, Traditional Album of the Year, and Song of the Year for the title track.
Boston's own Dennis Brennan has a musical legacy that needs no introduction. Think of the J. Geils Band, Morphine and Willie Alexander. Dennis is a cagey veteran who hasn't won similar fame but can electrify audiences with his ability to cross brilliantly from rock to soul, blues, country, and jazz, while breathing fresh life into each. Longtime friend Peter Wolf of the J. Geils Band, offers this praise: "The biggest challenge for any artist is to sustain and keep growing. Many musicians who stick with it can fall into a trap of becoming parodies of themselves. Dennis has always kept maturing, which is one of the hardest challenges, and that's why I always enjoy checking him out."
Willie J. Laws has over 25 years of performing experience and has traveled the world making music. The influences heard in his music are many and eclectic. There are deep roots in Texas music tradition and uniquely American roots music. Raised in the Gulf Coast of Texas, Willie J. developed his "funky blues" guitar and vocal sound, influenced by Texas Blues and R&B, Tex-Mex Tejano/Conjunto, Louisiana Zydeco, and Country. Willie's rich voice and exciting guitar playing will make you a believer that he is truly "The Last Prophet of the Funky Texas Blues."
Michael "Mudcat" Ward has been a key player in the New England blues scene for nearly forty years. His signature traditionally-grounded approach and tone on acoustic upright and Fender bass have gracefully supported many a roots artist over the years. He was an integral component of the debut LP of Ronnie Earl & the Broadcasters and of Earl's subsequent six recordings. Among Ward's many recordings, his bass lines can be heard backing blues giants Big Walter Horton, Jimmy Rogers, Kim Wilson, Jimmy Vaughan, Wayne Bennett, Ronnie Earl, Robert "Junior" Lockwood, Charlie Musselwhite, Billy Branch and Sugar Ray Norcia.
Ositadima Brathwaite

was born and raised in Boston. His musical influences were Buddy Rich, Tony Williams, Billy Cobham, Dennis Chambers, Steve Gadd, Dave Weckl and Nile Rodgers. He attended the Berklee College Of Music, and has worked with artist's such as: Solomon Burke, Wynton Marsalis, Toni Lyn Washington, Calypsonians Crazy, Baron, Iwer George, Denise Belfon, Jah Spirit, Anthony Geraci and Willie J. Laws. Brathwaite recently Toured in Russia for the US Consulate, in Trinidad for the International Steel Band Competition and L.A. for the Dub Magazine Auto how. He continues to share his gift of Music through Performing, Educating, Touring, and Mentoring young Musicians.