The Capitol Steps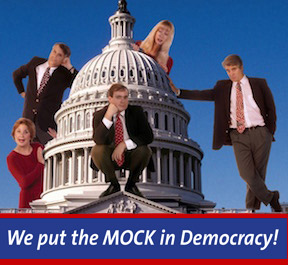 11-15-2018
They're back.....
If you saw them here last year, you know. Or maybe you've seen and heard them on
NPR, NBC, PBS, and ABC.
Don't miss this show!!! Seriously, it's one of the funniest shows going
on contemporary politics. No one is spared.
The Capitol Steps began in 1981, at a Christmas party in the office of former

Senator Charles Percy

. Like most things in Congress, they never knew when to stop. Over the past twenty-six years, the Capitol Steps have recorded twenty-nine albums, and appeared on "Good Morning America," the "Today Show," "20/20," "Entertainment Tonight," "Nightline," CNN's "Inside Politics," and dozens of times on National Public Radio's "All Things Considered." For the past nineteen years, they've produced quarterly specials for public radio and have been featured in three national specials for public television. They've performed for five U.S. Presidents (six if you include Hillary.)

Many of the performers have worked on Capitol Hill, some for Republicans, some for Democrats, and some for members who sit firmly on the fence. In fact, the current cast of the Capitol Steps has at one time or another infested the offices of eleven US Senators and seven Members of the House of Representatives. Most of these politicians have since been defeated or placed under investigation.

No matter whether you're a Democrat or Republican, you can bet the Capitol Steps will tackle both sides of the political spectrum and all things equally foolish. What more would you expect from the group that puts the "MOCK" in Democracy?!

"The troupe has become a favorite on the Washington social circuit. Its political satire brings chuckles…rave reviews…guffaws…and bipartisan grins all around. The satire hits the mark." - THE WALL STREET JOURNAL

"Clapped like mad for the Capitol Steps!…The best musical satire on Washington I've ever seen!" - THE WASHINGTON TIMES

"They're the best. There's no one like them, no one in their league." - LARRY KING, CNN

"These people are very funny. They do comedy, they do satire, and they do it extremely well." - BERNARD SHAW, CNN

"Their insight and analysis are better than yours, Novak!" - JOHN McCLAUGHLIN, The McLaughlin Group

"*#@!*! you guys are funny!" - TOM CLANCY, Author

"Capitol Steps make it easier to leave public life." - Former PRESIDENT GEORGE BUSH, Sr.