Ana Popovic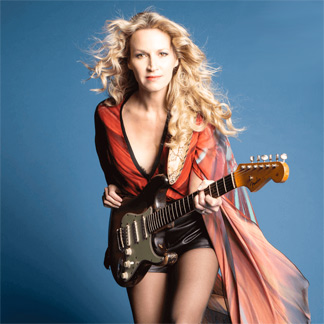 12-18-2022

Guitar slinger and singer Ana Popovic is back on the road celebrating 20 years as a touring musician, hitting cities all across the US and Europe. "It's really hard to believe that twenty years ago, I gave up a career in graphic design, formed the Ana Popovic Band, and decided to be a full-time musician. Soon after, I traveled to Memphis to record "HUSH!," my first solo release," says Ana from her home in Los Angeles. "I had big dreams back then and I still dream big today."

Ana was nominated for this year's LIVING BLUES AWARD for Blues Artist of the Year (Female).

Today, you'll find Popovic in a select group of excellent modern blues guitar players. One reason could be the fact that she's always willing to work a little harder and travel a little further to hone her craft. That dedication has resulted in 12 albums, two DVDs, six nationwide Experience Hendrix tours, six Blues Music Awards nominations and sharing the stage with legends B.B. King, Buddy Guy, Gary Clark, Joe Bonamassa and many others.

Popovic's newest release, 'Live for LIVE', is an exciting hour and a half CD & DVD demonstrating why she's proudly looking back at a career of thousands of shows worldwide. This high-energy concert showcases not only Ana's mesmerizing guitar skills but also her fabulous band, successfully merging musical styles. Ana's passion on stage is so evident that the title sums it up, this IS what she lives for.

Called "one helluva a guitar-player" by Bruce Springsteen and nominated for six Blues Music Awards, Ana has appeared on the covers of Vintage Guitar and Guitar Player magazine. Her albums 'Can You Stand The Heat' and 'Unconditional' were USA Today Picks-Of-The-Week and featured on NPR Weekend Edition, who praised her "Fiery technique on the Stratocaster". Nearly all of Ana's albums reached the top of the Billboard Blues Charts.

VIDEO 1 - VIDEO 2 - VIDEO 3