St. Patrick's Day with THE KELLY GIRLS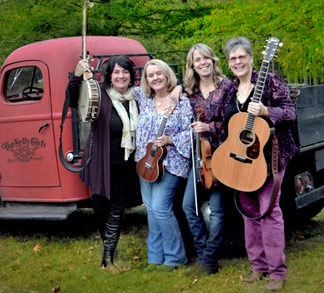 3-17-2019

Get your St. Patrick's Day party on with The Kelly Girls. St. Patrick's Day is all about having fun and this lively and talented, four-piece, all female band are all about kicking up your heels and having fun. Enjoy happy songs, sad songs, pub songs, love songs, lively reels, jigs and polkas blended with slow waltzes and ballads to round out the evening.

All the girls have been performing in New England, Canada and Ireland for many years for all kinds of parties, weddings, festivals and special occasions. They celebrate traditional music that crosses all generations and cultures, while also introducing original material that will one day certainly become your favourites too!

With Dublin native Aisling Keating on tinwhistle, bodhran, ukulele and vocals; Melinda Kerwin on fiddle, award-winning singer-songwriter Christine Hatch on banjo, guitar & vocals; and award-winning singer-songwriter Nancy Beaudette on guitar, mandolin, clavietta, bouzouki and vocals, these ladies bring the party to you. So kick up your heels, dance, clap and sing along with The Kelly Girls!

And of course we will have corn beef & cabbage on the menu.
And Guinness & Jameson to grease the wheels a bit.
Because, as the saying goes, "On St. Patrick's Day - everyone is Irish!"

Delight in traditional and original Kelly Girl songs and tunes from their recent album release "May You Always" and bring home your own copy of their Celtic CD to keep you smiling all year long! Kick up your heels, stomp your feet, raise a glass, dance, clap and sing-along with The Kelly Girls! But don't delay - tickets go fast! Reserve your seat NOW!