St. Patrick's Day with THE KELLY GIRLS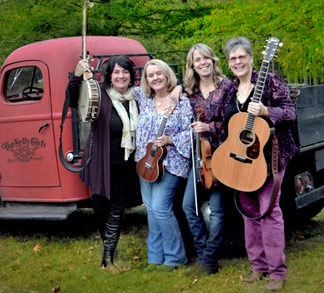 3-13-2020

TO OUR PATRONS: THIS EVENT IS BEING RESCHEDULED IN LIGHT OF CIRUMSTANCES WITH COVID-19. ALL TICKETS WILL AUTOMATICALLY TRANSFER TO THE NEW DATE AT THE SAME TABLE. PLEASE BE PATIENT AS WE WORK WITH UPCOMING PERFORMERS TO FIND NEW DATES.


Get your St. Patrick's Day party on with The Kelly Girls. St. Patrick's Day is all about having fun and this lively and talented, four-piece, all female band are all about kicking up your heels and having fun. Enjoy happy songs, sad songs, pub songs, love songs, lively reels, jigs and polkas blended with slow waltzes and ballads to round out the evening.

"More than just Irish songs, they are musically superior, and their banter between songs very entertaining." – P. K.

The Kelly Girls have quickly gained recognition as one of the most entertaining Celtic Bands in New England. Rousing renditions of songs and tunes rooted in the Celtic traditions of Ireland, Scotland, Canada and America along with captivating harmonies and instrumentation lend to their signature sound.

"It's the kind of repertoire and presentation that would work at a St. Patrick's Day bash, a mellow folk coffeehouse, or a fine summer's evening on a town green, where people just want to clap and sing along, even get up to dance." – Sean Smith, Boston Irish Reporter

The Band has played many prestigious venues and festivals, and continues to garner media attention for both their traditional and original music. The Kelly Girls recently released their first album, "May You Always", which has numerous collaborations with award-winning Canadian songwriter Nancy Beaudette – the group's guitar, bouzouki and mandolin player. The compliment also includes Dublin native Aisling Keating on tin whistle, flute, bodhran, and ukulele, Bostonians Christine Hatch on banjo, guitar, and harmonica, and Melinda Kerwin on fiddle.

"What an incredible performance! The music stirred up so many emotions!" – K. Burgoyne

For The Kelly Girls, Celtic music is about storytelling, complete with varying degrees of instrumentation and lyrics. "We respect the historical compositions that we carry forward, we recognize that we are also part of a new generation of storytellers. We feel connected to our common humanity, and the thread of hope and dreams that weave us together, continue to connect us to each other."

"This talented foursome packed the house!" – Merrimac Public Library

Delight in traditional and original Kelly Girl songs and tunes from their recent album release "May You Always" and bring home your own copy of their Celtic CD to keep you smiling all year long! Kick up your heels, stomp your feet, raise a glass, dance, clap and sing-along with The Kelly Girls! But don't delay - tickets go fast! Reserve your seat NOW!