Matthew Curry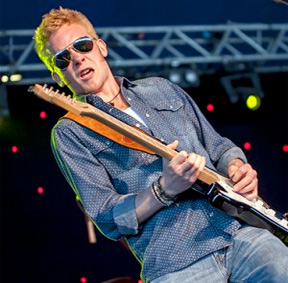 2-18-2023


Seemingly out of nowhere, Matthew Curry has been creating a serious buzz these past few years, seeing rock star-like standing ovations at key festivals both in the U.S. and abroad. And the lines for his autograph at the merchandise booths are longer than most headliners.
Curry's roots certainly run muddy-waters deep, something that's not been lost on the guitar legends he's had the honor of sharing the stage with over the past few years. "Curry is a phenomenal guitar player," marvels Peter Frampton. "A highlight from my tour last year was jamming with him. He's the next guitar hero!" Echoing that sentiment is Steve Miller, whom Curry both opened for and joined onstage during an exhilarating nine-date run in Canada as well as dates all across the US. Steve Miller declares that Curry is a "wonderful guitar player and great songwriter in the Stevie Ray Vaughan area of virtuosity and originality."

This 20 year old guitar slinger and soulful singer from Illinois has been touring with the Steve Miller Band, the Doobie Brothers and Peter Frampton. Curry's guitar riffs are so strong for his age that Peter Frampton had to give him kudos on his Facebook page: "I see a big future for Matthew. Someone asked me in an interview today if I thought there could be any more guitar heroes. Well, hell yes of course and Matthew is one who will prove that to be true."

Curry's 1st three albums received much critical and public acclaim; 2011's barn-burning If I Don't Got You, 2014's hard-charging testifier Electric Religion and 2016's Shine On). And his newest, "Open Road" is just out now. Get your signed copy at this show.
"A wonderful guitar player and great songwriter. In the Stevie Ray Vaughan area of virtuosity and originality." - Steve Miller

"He's the next guitar hero!" - Peter Frampton
VIDEO 1 - VIDEO 2