New England 40th Anniversary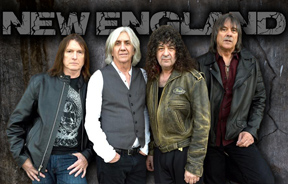 10-26-2019
New England returns to Bull Run for a very special 40th Anniversary performance. VIP seating is available that includes an exclusive meet and greet with the band, photos and a special TBA gift.
The architecture of a rock band is a fragile thing, but every once in a while a band comes along and manages to build something that is truly enduring. Out of the gate, New England touched not only the hearts of what would become life-long die-hard fans, but also turned the business on its ear as well. They were at the center of a bidding war amongst record label giants including Clive Davis (Arista), Chris Wright (Chrysalis), Ron Alexenburg (Infinity/MCA) and Lenny Pietze (Epic). The band ultimately signed to Kiss manager Bill Aucoin and worked with producers, Mike Stone (Queen, Journey, Foreigner, Asia) Paul Stanley of Kiss and Todd Rundgren to produce 3 highly acclaimed albums… "New England," "Explorer Suite" and "Walking Wild."
Based in Boston, New England features all of the original members, guitarist/vocalist John Fannon, drummer/vocalist Hirsh Gardner, keyboardist/vocalist Jimmy Waldo and bassist/vocalist Gary Shea.
In 1979, the band emerged on the international scene with the release of their self-titled debut album on Infinity/MCA. Their first single "Don't Ever Wanna Lose Ya" became a

Billboard Top 40

hit and worldwide AOR smash. New England is on tour again celebrating the 40th anniversary of the release of that iconic self titled album "New England," which was recently voted by UK's Classic Rock Magazine

#14 of The 50 Greatest AOR Albums of all time

.
VIDEO (
Don't Ever Wanna Lose Ya) - VIDEO (
Get It Up)