Lauren Passarelli, Kate Chadbourne and Bird Mancini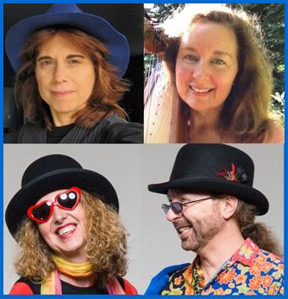 9-15-2016
Share an evening of Artistry with friends, Lauren Passarelli, Kate Chadbourne & Bird Mancini - master musicians - for a warm, funny, intimate, musical, soulful, great time, with collaborations, and surprises. You will hear, guitars, voices, accordion, harp, piano, harmonica, melodica, melodian, poems and stories. You will feel entertained, enlightened, charmed and connected.
Lauren Passarelli has been called the music world's wonder woman for being a songwriter, performer, arranger, producer, recording engineer, owning a record label & being a Berklee College of Music Guitar Department Professor since 1984. A multi instrumentalist, singing & playing many parts on her own records, she has two CDs with arranger, Cindy Brown, under the band name; Two Tru, and six CDs on her own. Her music has been featured on daytime TV: CBS, NBC, & WGBH. Lauren also recorded other artists including: Ruth Mendelson, Kate Chadbourne, Crave, Thaddeus Hogarth, & Jane Miller. Pat Metheny has called her a great guitar player. Lauren's early musical influences were: The Beatles, James Taylor, Stevie Wonder, Carly Simon, & Fleetwood Mac. New Englander's know Lauren as, George Harrison, when she toured with the Beatles' Tribute Band; Get Back, later renamed, All Together Now, from 1995-2007. Noticed on youtube, Lauren is now the lead guitarist in the solo Beatles' Tribute Band, AfterFab since 2014.
Kate Chadbourne
is an award-winning songwriter and poet, a scholar and teacher of Irish language and folklore with a PhD from Harvard, and a beloved performer at venues throughout New England. She has been honored as a "tradition bearer" in the Revels Salon series and in the Gaelic Roots Concert Series at Boston College, and her music has been featured on NPR's programs, "Cartalk" and "All Songs Considered." She has released four solo CD's, two collections of poetry, and has collaborated on recordings and live performances with Tim Janis, Lauren Passarelli, The Chanticleers, The Celtic Kates and many others. Named as one of "The Most Fascinating People" in Central Massachusetts by the Sentinel and Enterprise Newspaper, Kate is also the founder of The Bardic Academy, a school for great-hearted people at the crossroads of art and magic. She brings to her audiences the sounds of the harp, piano, tin whistle, Irish flute, and melodeon, a deep love and knowledge of traditional Irish story, a warm and welcoming presence, and a voice often described as "the voice of an angel."
VIDEOS: Moonlit Apples – The Blackberry Flower
Boston's Bird Mancini is a cosmopolitan fusion of blues-tinged rock, Latin-flavored bossa nova, country-folk balladry, and woolly psychedelia, with lush vocals, guitar, accordion, and a variety of percussion, bells and whistles. In recent years they've toured the West Coast and performed for the International Pop Overthrow Festival in Boston, NYC, and The Cavern Club in Liverpool, England. The duo features Ruby Bird-vocals, accordion, melodica, harmonica, percussion; Billy Carl Mancini-vocals and guitar. Critically acclaimed and ASCAP/Boston Music Award nominees, Bird Mancini were twice named among the Top 10 Year's Best by Metronome Magazine. They've opened for Leon Russell, David Crosby, Joan Osborne, Gregg Allman, Jonathan Edwards, The Stompers, The Outlaws and others.