Marty Nestor & the BlackJacks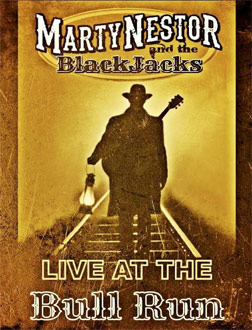 7-9-2016 (Ballroom)
Marty Nestor will be playing his new CD "Live From the Bull Run." It's a great CD that captures the spirit of Marty's music live, but with the quality of a studio recording.
Marty Nestor's music has been described in a lot of ways; edgy roots rocker, blues player, folk singer, songwriter. It is a melting pot of many different musical styles. His songwriting conjures up comparisons to The Band, Leon Russell, Tom Petty and Dylan and his writing brings a sense of hope and dark reality that make listeners want to be involved as he weaves his tale.
Marty started playing the local folk mass when he was 11 years old and has toured extensively over the years in the New England area. He has been in a number of well know regional acts over the years and has shared the stage with a host of National acts. Numerous radio stations are playing songs from his record " Saint of the Highway" as he continues to write new original music that he will release in the near future. Marty will be joined by his band, Jeff Root, Lloyd llsley and Carl Johnson.
"Marty's music is a bit like Arlo Guthrie meets John Hammond Jr. All compositions are folk ballads and Americana and are very personal and introspective. His playing is solid and voice expressive and some of his music is stripped down to just a n acoustic guitar. When he flexes his muscles, his tunes are done with the slight swagger and confidence of a first rate barroom band." - A.J. Wachtel- Noise Magazine

OPENER: Carl Johnson - "A guitarist's guitarist, Johnson's signature guitar style is smooth with harmonized leads and crisp snapping chords. Unearthing a vein of craftsmanship that's rarely seen these days without the aid of a drum machine." - Howl in Lowell