Eilen Jewell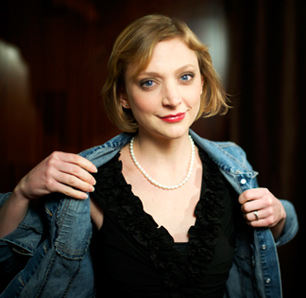 10-11-2019

Eilen's new album, "Gypsy," is due to be released in August of 2019, and she's calling this one her favorite yet. At long last, a new album of Eilen originals! New sounds. Old sounds. Electric guitar driven rockers. Classic country. Tender ballads. A Pinto Bennett cover. A protest song. It's all there. Get your signed copy at this show!

As hard as it is to categorize Eilen Jewell's music - terms like alt-country, roots-rock, country-noir and Americana get used a lot - it's even harder not to become thoroughly enraptured by the singer/songwriter's powerful versatility, musical stories and images. And that gorgeous voice makes you feel like she's singing just for you, out on the breezy back porch or by a crackling campfire. She does so much, so well.

A few examples: Butcher Holler, Jewell's acclaimed 2010 tribute to Loretta Lynn, underscores her love for tough traditional country music, coal miner's daughter style, while her electrifying cover of Shakin' All Over, originally a 1960 chart-topping British hit for Johnny Kidd and the Pirates, was one of the surprise highlights of 2009's Sea of Tears. Propelled by Jerry Miller's shimmering guitar dazzle, the song remains a live showstopper where hints of '60s surf instrumentals and "Paint It, Black" are deftly thrown in for good measure. On 2011's Queen of the Minor Key, featuring guest appearances from the likes of Big Sandy and Zoe Muth, Jewell penned all the songs. One of its radio favorites is Warning Signs, with references to a black widow, a rattlesnake, and a beady-eyed raven. Jewell calls the song "creepy." The Boston Globe called Minor Key, "emotionally raw and riveting," and an NPR commentator declared, "She's got a sweet and clear voice with a killer instinct lurking beneath the shiny surface."

Opener: JORDIE LANE with CLARE REYNOLDS - Jordie Lane's knack for comedic storytelling, incredible voice and unique rhythmic guitar playing has taken him around the world, touring with Gotye, Billy Bragg, Old Crow Medicine Show, Neko Case, Cat Power, The Weakerthans, Ruthie Foster, Mary Chapin Carpenter and The Moody Blues.
Clare Reynolds' vocal and instrumental harmonic quality is matched by few others, and their symbiotic connection has been likened to somewhere between Gillian Welch & David Rawlings and Shovels & Rope.
Their latest EP, 'Lost' features legendary drummer Jim Keltner (Traveling Wilburys, John Lennon) and mixed by local Jordan Lehning (Rayland Baxter, Josh Headley).