Larry Campbell and Teresa Williams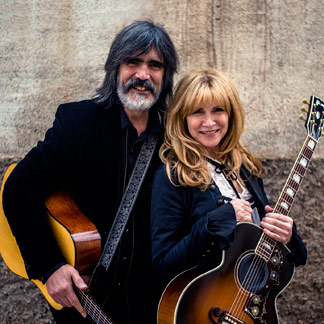 2-13-2022
Larry Campbell and Teresa Williams acclaimed eponymous 2015 debut, released after seven years of playing in Levon Helm's band – and frequent guesting with Bob Dylan, Phil Lesh, Little Feat, Jorma Kaukonen and Jack Casady, brought to the stage the crackling creative energy of a decades-long offstage union..


A whirlwind of touring and promo followed, and when the dust cleared, they were ready to do it all again. Which brings us to "Contraband Love," their newest and riskier slice of Americana.
Larry, who produced Contraband Love, says, "I wanted this record to be a progression, bigger than the first one. That's all I knew. I wanted the songwriting to be deeper, the arrangements more interesting, the performances more dynamic. Specifically how to get there, I didn't know. I did know the songs were different. The subject matter was darker than anything else I've written." "More painful!" Teresa says, and laughs. "Yeah," Larry says with a smile. "I'm proud of our debut, but I felt like the songs were lighter than what I'm capable of doing. As a songwriter, I aspire to a sense of uniqueness: this is a great song and it could only have been written by me. I want to get there. It's a journey, a goal, a pursuit.

The seeds for the Larry & Teresa duet project were unwittingly planted in their courting days, when Larry and Teresa sang and played with the locals under her great-great grandmother's Tennessee cedar tree, the same one under which they married. (These gatherings continue to this day.) Later, when the duo was song-swapping all night with the band in the back of Bob Dylan's tour bus, Dylan's longtime manager Jeff Kramer told Larry he was crazy not to make hay with what they had as a duo. But their schedules kept the idea on the back burner until 2005, when Levon Helm called. He'd beaten cancer, was invigorated as never before, and was putting together a band for the soon-to-be legendary Midnight Rambles at his barn-studio in Woodstock, NY. He wanted some Campbell-Williams mojo to help make the most of his surprise fourth act. This humble beginning – playing in a barn on a dirt road – inaugurated the greatest musical experience of Larry and Teresa's lives.

Larry became the unflappable leader of the shape-shifting Midnight Ramble Band, earning three Grammys for producing Levon's final three CDs; Teresa, as an indispensable band member, frequently brought the house down. "Larry Campbell and Teresa Williams" was an extension of that time. They not only bring a lot to the table, they bring the table itself – plus the house, the still, the church, the marriage bed, the sawdust-covered floor, and abiding, unconditional love, all carried in two voices harmonizing across hills, hollers, porches, and fire escapes. Those close harmonies ride atop music made in a mountain refuge, far from the madding crowd, connected to a spirit that lives on in song.

VIDEO (the making of Contraband Love) VIDEO 2 VIDEO 3

IMPORTANT: ALL TICKETED SHOWS AT BULL RUN REQUIRE PROOF OF VACCINATION or PROOF OF NEGATIVE PCR COVID 19 TEST WITHIN 72 HOURS OF PERFORMANCE, PLUS VALID ID.