Dan Weber and Susan Cattaneo - Split Bill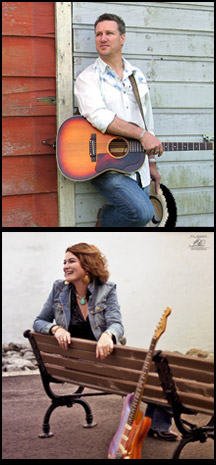 2-5-2016 (Ballroom)
Award winning songwriter Dan Weber's shows are as much a 'Conversation' with the audience as they are a performance. The hilarious stories he tells between songs take on a life of their own, weaving a backdrop for his literate, funny, and heartfelt songs. Almost always audiences will sing a long with favorites like '(I Deal with) Crazy ALL Day', 'Oh Woody' and others.
And there's something really unique about Weber's shows. His inspired and energetic performances are one-of-a-kind. Although it's hard to put a finger or name on 'it', it's clear that Weber has 'it' in spades; that mercurial quality that Todd Snider and Hayes Carll have, the ability to take an audience of any size along for the ride for an unforgettable night. Sometimes his shows are impromptu affairs: in train stations, living rooms, around campfires and even on the rim of the Grand Canyon, but no matter wherever they happen, each one is 'Special' and not to be missed.
"4 Stars: Has you hanging on to every word. That's the touch of a true Master Craftsman Songwriter." - Alan Cackett, Editor: Maverick Magazine, UK
Susan Cattaneo
is not afraid of the dark.
Nor is she afraid of singing about it. A powerful singer and sophisticated songwriter, this Boston artist combines vivid storytelling with a modern songwriter's spin. Call it New England Americana with a twang.
In 2014, her fourth album, "Haunted Heart," produced by Lorne Entress, was released with a sold out show at Club Passim. She was a finalist at this year's Kerrville's New Folk Contest. Susan was also a finalist in the 2015 International Acoustic Music Awards, the Independent Music Awards and a finalist in the 2014 USA Songwriting Competition, and the 2014 Mountain Stage New Song Contest. The record was one of the Top 100 Albums of the Year by the Alternate Root and won 2015 Album of the Year at the Limelight Music Awards.
A songwriting teacher for 15 years at the Berklee College of Music, Susan has performed the Shalin Liu Center, the Me & Thee Coffeehouse, Tupelo Music Hall, the South Shore Music Circus and the River Club Music Hall.