The Jazz Depot "Local Players Showcase"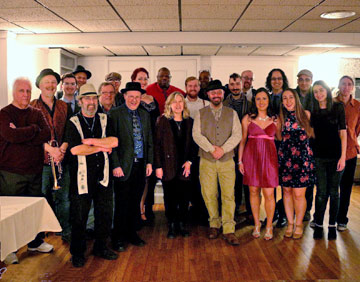 2-8-2020
The Bull Run and The Jazz Depot are very proud and excited to be hosting the "Fifth Annual Local Players Showcase"


The Jazz Depot made their debut on the Bull Run's famous Sawtelle room stage one fateful stormy Wednesday night 9 years ago… and the rest is history. Today you can catch them performing at the Bull Run every month – warming up the Tap Room Lounge in the cold winter months with their Saturday evening shows, jamming with local greats and guests at the "Stormy Wednesday Jazz Jam" and bringing guest stars from Central MA and beyond to the picturesque moonlit stage for the "Jazz on the Patio" Summer Series.

This organic sextet of Barry Stainer, Eric Clough, Katy Shea, Adam Weber, Staffan Jonsson and Jay Frigoletto perform eloquent Jazz Standards, Swing, Bebop, Latin and Blues with focus on improvisation and fun. Their hot tunes and irrepressible spirit always make for a memorable evening of fun and relaxation.

Over the years we have been introduced us to an incredible group of local musicians through the jams and the guest star appearances. We are so excited and honored host a grand old concert extravaganza - on the stage that started it all - to give these superlative local talents a chance to dazzle the crowd and make some special music together.

This year's Special Guests are: Weldon Hendricks, Anthony Albano, Ed Conley, Greg Butko, Ian Brenckle, Russel Watts, Emily Mazzarella, Marcus Washington, Dave Bergeron, Owen Ross, Zack Weber, Nathan Weber, Ken Parrish and Karl Helmer.

Come out and join us as we boldly venture into a Wonderland of Music for this very special showcase!