Glenn Hughes with Joanne Shaw Taylor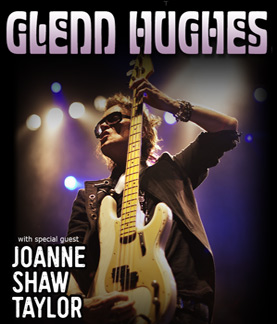 8-13-2016


Glenn Hughes is proclaimed as "The Voice Of Rock." This being said about others might sound like an outrageous boast, but with Glenn it is completely accurate. Starting in 1969 with Trapeze then moving on to Deep Purple, Black Sabbath and Hughes/Thrall, all the while doing literally dozens of session/guest appearances on records. From 2009 to 2013 he formed and fronted Black Country Communion with Joe Bonamassa and Jason Bonham and from 2013 to 2015, California Breed.
The Glenn Hughes Band performs as power-trio and plays material covering his career.

British blues guitarist/ singer Joanne Shaw Taylor was discovered by Dave Stewart of the Eurythmics at the age of 16, and the British music publication, "Blues Matters!," called her "the new face of the blues." Since her debut release in 2008, Taylor has been captivating audiences with her stellar playing and soulful voice. Her new album "The Dirty Truth" continues in this tradition. Her talent and audience continues to grow, making her a solid headline act in England with word spreading around the world as her reputation grows.