The Kelly Girls' Celtic Christmas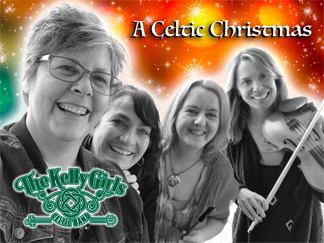 12-1-2017


Hear ye, Hear ye, 'Tis the Christmas season and The Kelly Girls invite you to an enchanting and exciting evening of beautiful ballads and rousing renditions of Christmas and Seasonal songs, all with a Kelly Girl Celtic twist!
Add in a dash of dancing or prancing and a sprinkling of songs from our new CD and you'll be feeling merry and bright all night long!
The Kelly Girls are a lively and talented four-piece all female band, playing rousing Irish, American and Canadian tunes, ballads, folk and pub songs. All the girls have been performing in New England, Canada and Ireland for many years for all kinds of parties, weddings, festivals and special occasions. The Kelly Girls celebrate traditional music that crosses all generations and cultures, while also introducing original material that will one day certainly become your favourites too!
With Dublin native Aisling Keating on tinwhistle, bodhran, ukulele and vocals; Melinda Kerwin on fiddle, award-winning singer-songwriter Christine Hatch on banjo, guitar & vocals; and award-winning singer-songwriter Nancy Beaudette on guitar, mandolin, clavietta, bouzouki and vocals, these ladies bring the party to you. So kick up your heels, dance, clap and sing along with The Kelly Girls!
"What an incredible performance that had the crowd on their feet! It stirred up emotions that life is not just about the here and now, but we come from a past that we must remind ourselves about as we direct our future."
- Karen Burgoyne
"They are a talented and energetic group of women, each a multi-instrumentalist, who know how to treat an audience to a good time."
- Pat Kenneally