Los Lobos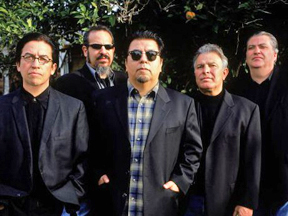 10-10-2018

Four decades have passed since Los Lobos released their debut album, "Just Another Band from East L.A." Since then they've repeatedly disproven that title - Los Lobos isn't "just another" anything, but rather a band that has consistently evolved artistically while never losing sight of their humble roots. These

triple-Grammy winners

have been influenced by rock and roll, Tex-Mex, country, folk, R&B, blues, brown-eyed soul and traditional Spanish and Mexican music such as cumbia, boleros and norteños. Get ready to dance to "Don't Worry Baby," "The Road to Gila Bend," "Will the Wolf Survive?," "Maricela" and, wait for it, "La Bamba" plus many, many more great songs.


Los Lobos were already East L.A. neighborhood legends, Sunset Strip regulars and a Grammy Award winning band (Best Mexican-American/Tejano Music Performance) by the time they recorded their major label debut "How Will The Wolf Survive?" in 1984. And though the album's name and title song were inspired by a National Geographic article about real life wolves in the wild, the band, David Hidalgo, Louie Perez, Cesar Rosas, Conrad Lozano and Steve Berlin, saw parallels with their struggle to gain mainstream rock success while maintaining their Mexican roots. Perez, the band's drummer, once called their powerhouse musical mix "the soundtrack of the barrio."

Three decades, two more Grammys, a worldwide smash single ("La Bamba") and thousands of rollicking performances across the globe later, Los Lobos is surviving quite well, and still jamming with the same raw intensity as they had when they began in that garage in 1973. Their new album, "Gates of Gold" is out and getting rave reviews. Get a copy signed at Bull Run.


Ten years ago, on their 30th anniversary, Rolling Stone magazine summed up that distinctive, diverse and spontaneous Los Lobos aesthetic perfectly: "This is what happens when five guys create a magical sound, then stick together for 40 years to see how far it can take them."