Bill Kirchen's Honky-Tonk Holiday w/ Special Guest Commander Cody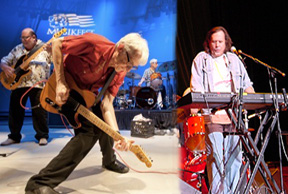 12-8-2017 (Sawtelle Room)
Bill Kirchen and Commander Cody (George Frayne) re-united again for this special HONKY-TONK HOLIDAY show.

If you saw the Kirchen/Cody show last year, then you know just how easily these two road warriors re-connect. The Commander will Join Bill & his band, Too Much Fun, for this very special Honky-Tonk Holiday. And the energy between these two ex-bandmates will have the room buzzin'.

This show will feature seasonal songs from Rock 'n' Roll, Blues, Rhythm and Blues, and Country; forgotten classics from the golden age of music such as Red Simpson's "Truckin' Trees For Christmas" and Hank Snow's "Reindeer Boogie", Albert King's "Santa Claus Wants Some Lovin'", some Commander Cody stuff like "Dadd'y's Drinkin' Up Our Christmas", Christmas tunes from Chuck Berry, Merle Haggard, Elvis and much more, celebrating an American musical tradition where country music draws upon its origins in blues and bluegrass and the Western swing of Texas and California honky tonks. AND of course your old favorites from the Kirchen and Commander Cody classics.

Commander Cody was the fearless leader and keyboard man of the the Lost Planet Airmen and Bill Kirchen was the original guitarist. They were a hell-on-wheels, rip snortin' party band with The Commander leading the musical mayhem and controlled chaos, sporting his legendary antics and sparking up even the toughest crowds and Bill puttin' the twang in that Hot Rod Lincoln sound, which was a runaway hit in 1972. They found themselves on bills with the Grateful Dead, The Doors, The Jefferson Airplane, Alice Cooper, Led Zeppelin & The Eagles; headlining The Fillmore & other legendary rock clubs. Their album "Live From Deep in the Heart of Texas" was named as

Rolling Stones 100 Greatest of all time

. They were the essence of American Roots Music with songs like "Truck Drivin' Man," "20 Flight Rock," "Down to Seeds & Stems Again," "Lost in the Ozone," "Smoke Smoke Smoke that Cigarette" and "Diggy Liggy Lo."

Bill Kirchen, the "Titan of the Telecaster," has been on stage & recordings with Nick Lowe, Doug Sahm, Elvis Costello, Emmylou Harris, Ralph Stanley, Gene Vincent, Link Wray, Danny Gatton and Hoyt Axton. He received a Grammy nomination in 2001. In 2002 he was inducted into the Washington Area Music Association Hall of Fame along with Dave Grohl (Foo Fighters, Nirvana) and John Phillip Sousa as well as winning 10 additional Wammies including Artist of the Year and Musician of the Year. In previous years, he won 2000 Rock/ Roots Rock Instrumentalist of the Year, Roots Rock Album (Raise A Ruckus) and 1999 Instrumentalist of the Year at the WAMA Awards, as well as being a multiple winner in 1997 and 1998, receiving ten awards, including Songwriter of the Year.

Nick Lowe calls Bill,

"A devastating culmination of the elegant and the funky, a really sensational musician with enormous depth

."
Indy Week calls him

"One of the best guitarists in the land."


I call him

"lightning in a bottle."



Buy tickets to this show for Christmas for someone you like - they'll be thanking you for years to come.