Toby Walker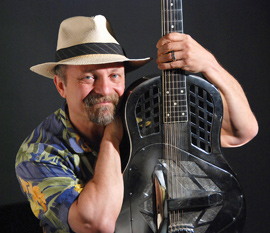 7/9/2022

- (Ballroom)
IMPORTANT:

This show was moved
from April 9, 2022.
All tickets will transfer automatically.
Roots fingerstyle guitar virtuoso, Toby Walker, who blends blues, ragtime, country, bluegrass, rock and old time jazz into his own unique style, has toured the US, England, Wales, France, Germany, Belgium and Holland. He has been featured in the New York Times, the London Sunday Times, the London BBC, Sirius-XM radio and was the 1st place recipient of the International Blues Challenge Award - Solo division - given out by the Blues Foundation in Memphis TN.

Toby says "I want to kill your audience... with laughter, song, stories and guitar playing." And kill you he will. Toby is the real deal, fingerpickin' bluesman. He's more than a great guitar player and more than a great storyteller. He's a great entertainer - the whole ball of wax.

Jorma Kaukonen of

Hot Tuna

and the

Jefferson Airplane

says "Flat out... you have to hear this great musician... I'm blown away" and has employed Walker to teach at his famous Fur Peace Ranch Guitar Camp for 6 years.

In 2010 Walker won the

NY Music Award

for 'Best Instrumental CD,' sharing the honors with

Mariah Carey

,

Rufus Wainwright

and

Judy Collins

among many others.
Walker has recently released three instructional guitar DVD's for the world famous company

Homespun Tapes

which have been getting rave reviews. And Carnegie Hall acknowledged his rare talents and hired him to augment and teach in their "American Roots" program aimed at honor level middle school students.
"A fingerpicking guitar virtuoso" - Happy Traum
"As a blues guitar player, I am stunned and in awe of Toby Walker's pickin'! - Steady Rollin' Bob Margolin: Guitarist for Muddy Waters

VIDEO
with
Jorma Kaukonen