James Montgomery Band with Charlie Farren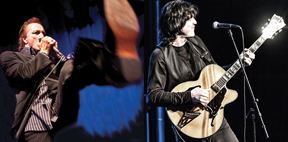 11-22-2014

The James Montgomery Band will be bringing down the Bull Run house as usual. And making this event an extra special night, this show includes the legendary Charlie Farren, who will, once again, be performing with former Farrenheit band member, David Hull (now in the James Montgomery Band, and formerly of the Joe Perry Project) You don't want to miss this one.

Blues Legend James Montgomery, hot off the success of his recent CD and sold out "Supergroup" performances, is enjoying the best years of his storied career that spans over 6 decades. His recent CD features performances by Johnny Winter, Joey Kramer and Brad Whitford from Aerosmith, James Cotton and the rapper DMC. It was on the nominating ballot for a Grammy in 2014. James and his incendiary band featuring David Hull, George McCann (performed with The Blues Brothers) and drummer ace Jeff Thompson have been at the top of their game and have been the base for "Supergroups" featuring Grace Kelly, Huey Lewis, Kim Wilson, Ayla Brown, Skunk Baxter, Duke Robillard, Barry Goudreau, James Cotton, and former members of Boston, The Doobie Brothers, Steely Dan, Cheap Trick and many, many others. In short, they are HOT right now!

Joining the Montgomery Band is another legendary rocker, Charlie Farren, one of New England's foremost songwriter/performers. His solo career is remarkable as he is able to fill any size room with his charismatic presence and well crafted original songs. He was the singer and guitarist for Aerosmith's Joe Perry Project and later signed a major record deal with his own band, Farrenheit, with David Hull. Charlie is truly one of the most original and entertaining artists to ever emerge from the healthy New England Music Scene.
This show will feature some of the best musicians in the country. And they are all close friends so anything can happen when they jam!!
This is "family night" for killer Blues and Rock and Roll - a rare, must-see opportunity!