Garland Jeffreys Band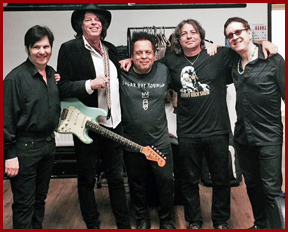 8-5-2016
A Brooklyn native who could fairly be called the quintessential New York City musician, Garland Jeffreys is enjoying the kind of creative second wind most artists can only hope for the first time around, earning a swarm of critical accolades and experiencing his most prolific stretch in decades. After a long hiatus Garland Jeffreys came roaring back into the spotlight with 2011's "The King of In Between," which included contributions from Duncan Sheik and old friend Lou Reed. "As good a classic roots rock record as you're going to hear from anybody" - (NPR). The album earned raves and led to his second appearance on David Letterman as well as sharing the stage with pals Bruce Springsteen, Levon Helm and Chuck Ragan. The experience fueled a creative revitalization for Jeffreys, whose ebullient, late-stage creative energy colors every note of his most recent release, "Truth Serum (2013).

??Long known for his amazing roster of supporting musicians (Dr. John, Sonny Rollins, James Taylor, Phoebe Snow) Garland is an edgy singer-songwriter / urban poet whose work should be taught in schools. From his first big hit, "Wild in the Streets," Garland has shown an amazing ability to fuse Rock, R & B, Soul, Jazz, Blues and Pop into something truly his own and unclassifiable. ? ?After a string of records in the seventies including "American Boy & Girl," "One-Eyed Jack" and "Ghost Writer," the eighties brought the fiercely rocking "Escape Artist," which yielded radio favorites "R.O.C.K." and a cover of garage classic "96 Tears." After "Guts for Love," a record chronicling the ups and downs of a long-term relationship, Jeffreys returned with "Don't Call Me Buckwheat," a complex and searingly honest exploration of being biracial in America.

Garland was inducted into the NY Blues Hall of Fame and featured in the Wim Wenders blues film "The Soul of a Man". He is a recipient of the prestigious Schallplattenkritik Prize in Germany, the Tenco and Premio Prizes in Italy, and performed at world-class festivals such as Byron Bay Blues, Montreux Jazz, Ottawa Folk, Calgary Folk, Fuji Rock, and at venues from Alaska to Japan. And forty-plus years into his storied career, Garland Jeffreys has no intention of slowing down.

"If there's a better record this year, I haven't heard it... an old-school rocker with a timeless mind. His new album is an urban poet's masterpiece." - Steve Morse

"A seriously satisfying, hi-octane show." - Huffington Post

"He will still jump from the stage and strut through the audience. When one story ends there's always another about to begin…" - No Depression

"This record is a good a classic roots rock record as you're going to hear from anybody this year." - NPR "All Things Considered"??

Videos: The Arte Lange Show - Letterman - Wild in the Streets
L'Oreal commercial with Victoria's Secret models!