An Evening with RICHARD MARX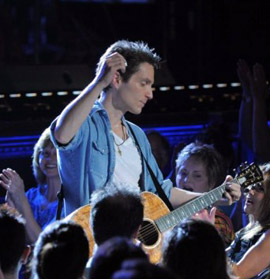 * PLEASE NOTE
THIS SHOW HAS BEEN MOVED TO 10-31

- HALLOWEEN
(call 978-425-4311 for more info)
Richard Marx has made his mark on the music industry by selling over 30 million albums, starting with his self-titled debut, which went to #8 and spawned four Top 5 singles, including the chart-topping "Hold on to the Nights," with "Don't Mean Nothing" earning him a Grammy nomination for Best Rock Vocal Performance-Male. The follow-up, 1989's "Repeat Offender," was even more successful, hitting #1 and going quadruple-platinum with two #1 singles in "Satisfied" and "Right Here Waiting." When both "Rush Street" (with two #1 AC hits in "Keep Coming Back" and "Hazard") and "Paid Vacation" (with its #1 AC hit, "Now and Forever") went platinum, Marx achieved a seven-year string of triumphs that rivaled any in pop-rock music history. To this day, he is the only male artist in history to have his first seven singles reach the Top 5 on the Billboard charts.
He remains a fixture on radio having written or produced records with the biggest names in music such as Barbra Streisand, *NSYNC, Kenny Rogers, The Tubes, Kenny Loggins and actor Hugh Jackman. Marx won a Grammy for "Dance With My Father," which he wrote with the late Luther Vandross and "Better Life," written with Keith Urban hit number one on Billboard's Country Singles chart. He has recently participated in writing sessions with everyone from Sugarland's Jennifer Nettles and Sara Bareilles to Nickelback's Chad Kroeger, showing his remarkable stylistic range. And across all formats, he has scored an amazing total of 14 #1 singles, both as a performer and songwriter/producer, making him a true multi-talented threat who continues to challenge himself and his fans.
His PBS special Richard Marx: A Night Out With Friends (now available on CD/DVD) was aired as part of PBS' acclaimed "Front Row Center" series, which aired in summer 2012. And in late 2013, Richard released his first ever Christmas album, titled "Christmas Spirit," which produced two Top 10 AC Hits, "Little Drummer Boy," and "O Holy Night."
Richard Marx remains active as a worldwide live performer, and 2013 will see him perform at Shepherd's Bush in London, as well as Russia, India, Malaysia, Singapore, and China.