Jaimoe's Jasssz Band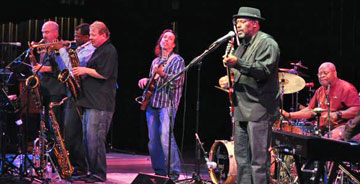 8-3-2013


Legendary drummer and founding member of the Allman Brothers Band, Jaimoe and his Jasssz Band play American music. They combine elements of Blues, Jazz, Rock-n-Roll, and R&B into a unique blend that captures the spirit and stirs the soul. Their repertoire ranges from new interpretations of Allman Brothers and other classic tunes to original songs that are classics in the making. Jaimoe's Band features Jaimoe on drums, Junior Mack on guitar & vocals, Dave Stoltz on bass, Bruce Katz on keyboards and some of the finest horn players of our time, including Paul Lieberman on sax, flute, & piccalo, Kris Jensen on sax and Reggie Pittman on trumpet.
Born in Mississippi in 1944, Jaimoe came up playing the soul music circuit. One of his first big breaks and most treasured recollections is touring behind the legendary Otis Redding. "I learned so much from Otis," Jaimoe says. In 1969, a few years after his experiences with Redding, Jaimoe found himself in Macon, Georgia, where he was introduced to a young hotshot guitarist named Duane Allman by record execs Phil Walden and Jerry Wexler. "I guess they figured that a long-haired hippie and a strange-ass drummer would be good together," Jaimoe says. Along with Duane's younger brother Gregg Allman on keyboards, second guitarist Dickey Betts, and an exceptional rhythm section that included bassist Berry Oakley and Jaimoe's 40-plus-year drum partner Butch Trucks, the Allman Brothers Band was soon on its way to immortality.
"No one thing determines what I am or who I am," says Jaimoe. "This is improvised, American music. "That's why it's Jaimoe's Jasssz Band. When I go onstage, it's like the first time I've picked up a pair of drumsticks, there must be that challenge. When I don't feel like that anymore, it's time to find something else to do."

OPEN: The Jackleg Preachers - Based out of Salem MA, JP bring the term "Jamband" to a whole new level. A diverse and dynamic group, in both age and musicianship, they run the gamut of musical genres and blend them into seamless unity. With raw powerful vocals, blues/rock/jazz guitars, melodic bass and world beat percussion, they make every song an epic journey of new discovery. Sweet and Soulful...Funky and Frenetic...Raucous and Rockin...Classic and Contemporary.