"OLD" Erin Harpe & the Delta Swingers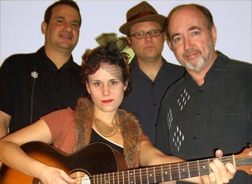 12-21-2013 (Ballroom)
• 2012 Boston Music Award winners "Blues Act of the Year"
• 2012 Boston Blues Challenge Solo/Duo Competition Winners
• Competing in the 2013 International Blues Challenge Memphis
• 2012, 2011 and 2010 Boston Music Award nominees
• 2011 International Blues Challenge Semi-finalists
In a genre that is often dominated by men, Erin Harpe has been hailed as "an authentic blues chanteuse", earning a reputation for her raw style and "total, selfless and compelling immersion in the music". Growing up in the Washington DC area, Erin began playing the guitar in her teens taught by her father, bluesman Neil Harpe. She soon began performing at folk festivals, coffee houses, bars and parties in the DC area, developing a strong blues guitar and vocal style of her own. She relocated to Boston to develop her music career, where she met local blues talents such as Paul Rishell and Susan Tedeschi.
Erin Harpe & the Delta Swingers gives the music a new twist to create a genre they call "Charles River Delta Blues". Audiences can't get enough of their upbeat, danceable sound featuring original and classic blues from 1930's delta blues and ragtime to early Bonnie Raitt.
The Delta Swingers features Erin on electric and acoustic guitar and lead vocals, backed by Jim Countryman on bass, Bob Nisi on drums and vocal harmonies and a revolving cast of Boston's best blues soloists, including the blistering electrified harmonica, slide guitar and barrelhouse piano of Richard "Rosy" Rosenblatt.
"This blues chanteuse breathes new, whiskey-soaked life into the likes of Memphis Minnie and Kansas Joe, with a sound that's uniquely Charles River Delta." – Boston's Weekly Dig