Liz Frame & the Kickers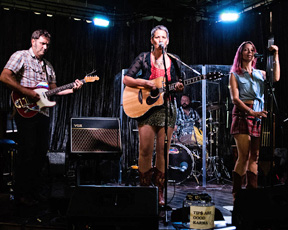 1-30-2016 (Ballroom)

"Liz Frame is one of the most compelling, interesting and emotive voices I've heard in a long, long time." - Marian Leighton-Levy/Rounder Records founder

"Once in a while an album cuts right to your heart. Liz Frame and the Kickers' "Sooner" is that record. Every track is a startling, well-honed gem filled with Liz's powerful, experience-rich vocals....(She) has immense talent..." - Steve Morse / Boston Globe, Billboard and Rolling Stone.

Liz Frame has been performing her own brand of rootsy Americana music since her early teens when she picked up the guitar and has been hooked on the process of making music ever since. In the 80's she became an active member of the Boston country music/rockabilly scene, fronting her own band and garnering serious interest from major and independent record labels. Her current band, the Kickers, are Pat Chamberlin on lead guitars, Lynne Taylor on bass and Pete Walsh on drums. This group of talented friends whose raw, acoustic sound and sweet harmonies help deliver her material with distinction.
Her critically acclaimed debut recording, "Sooner," was a collection of ten original songs that featured playing by some cream-of-the-crop players, including Bobby Keyes, Duke Levine and Kevin Barry. And her newest EP "Liz Frame & the Kickers" she continues to write and perform with seemingly nonstop energy and enthusiasm.