Carl Palmer's ELP Legacy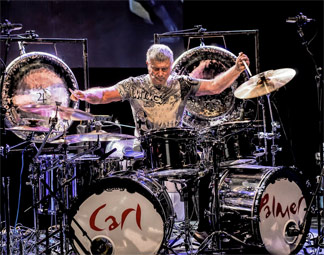 2-10-2022 - Rescheduled from 9-2-2021, Tickets will automatically transfer

EMERSON LAKE & PALMER: THE 50th & Beyond

Carl Palmer celebrates the music of Keith Emerson, Greg Lake and ELP.

Rock legend Carl Palmer is one of the most highly regarded drummers of all time. His explosive technique, speedy hands, sheer power and indulgent, often showy tendencies place him in at the top of the drum pantheon alongside Rush's Neil Peart. Palmer will always be remembered as a founding member of Emerson, Lake, and Palmer (ELP), a band that was an exciting and daring progressive outfit consisting of a trio of young superstars: Palmer, bassist/vocalist Greg Lake (formerly of King Crimson) and keyboard wizard Keith Emerson (of the Nice). Some will remember that he has also pounded the skins in a number of outfits like The Crazy World of Arthur Brown, Atomic Rooster and Asia (with whom he still performs).

The Carl Palmer Band is filled out by two young, virtuoso performers: bassist Simon Fitzpatrick and guitarist Paul Bielatowicz. Bielatowicz has amazing skills, recalling the young Eddie Van Halen, while Clayton lays down a steady rhythm for him dance around. Bielatowicz's incredible fretwork helps to create a harder, more modern edge as the band, with the veteran Palmer's relentless drumming at the fore, offers furious takes on some of ELP's most progressive instrumental numbers.

Hear the greatest rock instrumental hits of ELP, completely re-invented for guitar, bass & drums. Critics have called this one "One of the most exciting live shows currently on tour.

Rolling Stone declares Carl Palmer one of the 10 Greatest Drummers of all time.
Progressive Music Awards, Carl Palmer given the Virtuoso award celebrating a career spanning more than 40 years.

Arguably the greatest drummer since Buddy Rich, Palmer is as good now as he ever was." - Daniel Knighton, San Diego Concerts Examiner

"...a drummer near the height of his powers, clearly in tune with the past and the present." - Ken Micallef, Modern Drummer

"Palmer has lost none of his steam or power... His drums drive the trio's powerful playing with the same energy he brought to ELP in the 1970s." - Howard Whitman, Classic Rock Revisted

VIDEO

IMPORTANT: ALL TICKETED SHOWS AT BULL RUN REQUIRE PROOF OF VACCINATION or NEGATIVE COVID TEST RESULT WITHIN 72 HOURS, PLUS A VALID ID TO ENTER.