NRBQ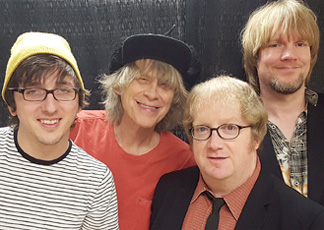 11/17/2022
NRBQ:
"If anything embodies the spirit of rock & roll, this music does."
Terry Adams, visionary, driving force and "untamed genius of the keyboards" for NRBQ since the band's inception over four decades ago, is one of music's true originals. Adams reignited the legendary Quartet with the addition of Scott Ligon on guitar & vocals, John Perrin on drums and Casey McDonough on bass & vocals.

They have been called one of the best bar bands on the planet by Keith Richards, Bonnie Raitt, Elvis Costello and Bob Dylan. You have to see them live to appreciate the true genius of this venerable band.

NRBQ released their first new studio album (DRAGNET) since 2014 on November 12, 2021. It includes ten originals, with contributions by every member of the band, and Terry's rockin' arrangement of the classic TV theme song. Get a signed copy at the show.

"Ability to groove like no other band on the planet," - popmatters.com
"Fans will find spontaneity, humor, breadth, and musical know-how…" - No Depression
"Music no one can make anymore." - the Detroit Metro-Times

And live? "…the current incarnation lives up to the legacy. They reclaim not only the vast NRBQ catalog of songs and loose-as-a-goose sound, but also the band's wildly unpredictable spirit on stage. Their willingness to step way out on a limb has always been one of NRBQ's most endearing qualities, and in the contemporary world of pre-packaged, cookie-cutter pop stars, it's sure great to have them back," said the Albany Times-Union. Added the Minneapolis Star-Tribune, "Meet the new Q, as fun as the old Q. NRBQ is still liable to play anything. Roaring rockabilly, transcendent pop-rock, roadhouse blues, avant jazz – you name it, Adams claims it and reframes it. The new band is a revelation, capable of playing nearly the whole NRBQ catalog, which dates back to 1966."

Watch NRBQ HERE and HERE

OPENER: Kris Lager - a one-of-a-kind songwriter, guitarist, singer, keyboardist, and entertainer. An intense and charismatic performer who has traveled across the country honing his craft over the last two decades. Many of his peers are calling him: "One of the most gifted songwriters of his generation."