North Shore Acappella Holiday Show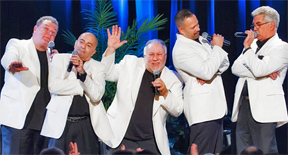 12-21-2017

BACK BY POPULAR DEMAND - A truly great Holiday show for the whole family.

For over 30 years North Shore Acappella has excited audiences throughout New England adding an experienced blend of harmony, rhythm and tempo to songs from the 1940's through today. They sing everything from Doo-wop to R&B and classic radio hits. Every performance is arranged in a way that showcases each singer in a lead role - a trait that very few acappella groups in the country can claim. This harmony is brought to you by Tommy Duarte, Paul Lopes, Jimmy Martin, Vinny Straccia, and Guy Chiapponi.

In 1991 North Shore Acappella won The National Harmony Sweepstakes in San Rafael, California, defeating six other top finalists from across the country. The special art of delivering music without instrumental accompaniment is what North Shore Acappella is all about. This award-winning group offers a continuously fresh repertoire comprising hundreds of popular hits.

In 2011 they were featured on NBC's The Sing Off, dazzling listeners across the country. Thirty-five groups auditioned in Boston alone, and 250 auditioned nationwide for the contest. They have also appeared as the opening act for The Temptations, The Platters, Ben E. King, Johnny Maestro, Al Jarreau, Roberta Flack, Frankie Vallie, and Gene Pitney. Most recently they opened for Jay Leno at The Hard Rock Cafe in Hollywood, CA.

HINT: Tickets to this show will make a great early Christmas present...