TOM RUSH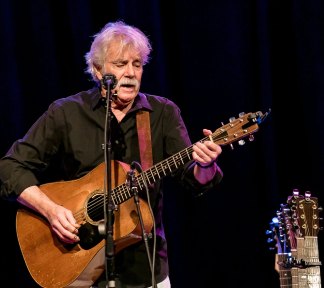 12-2-2023 (Sawtelle Room)

Tom is back for his annual just-before-Christmas Show.

Tom Rush: From his early days at Club 47, the Cambridge coffeehouse that also gave Joan Baez, Bob Dylan and Judy Collins their start back in the 1960's, through 14 albums, to his sold out Club 47® concert series which has filled the likes of Carnegie Hall and the Kennedy Center, Tom's knack for finding wonderful songs, writing his own and championing emerging artists has made him a legend.
His music includes healthy doses of both folk and blues influences. He also was the first major artist to record the songs of a then-unknown Joni Mitchell, and also recorded a number of songs from such emerging singer/songwriters of the time as Jackson Browne, Eric von Schmidt, James Taylor and Eric Kaz.
Rush's own compositions are still lauded for their poignant, undeniable lyrics. When U2 performed on last year's Grammys, Bono was heard singing a bit of Tom Rush's "No Regrets.". This version appears in their live sets, and also the live version of the song currently available on iTunes. Bono talked about it in a Rolling Stone Interview. Garrison Keillor's A Prairie Home Companion, live from Town Hall, NYC featured Tom on April 16th.

"... his voice is outstandingly versatile; his guitar playing is sheer genius; his sense of humor side splitting ..." Trina E. Kingsbury, MARTHA'S VINEYARD TIMES

"Probably the only man alive who should be allowed to sing Joni Mitchell songs" Eric Fidler, CHICAGO TRIBUNE. More info: www.TomRush.com

This year Tom will be accompanied on keyboards by Matt Nakoa.
And back again this year accompanying Tom is the dynamic duo, Eric Lilljequist and Dean Adrien.