The BOB WOLFMAN Band with LARRY CORYELL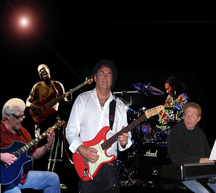 1-18-2014 (Sawtelle Room)

Every once in a while a band comes together by some magical, magnetic pull of the cosmos and blows everyone away. "Transition" is the CD by this supergroup featuring five of the best players in their respective fields today. Produced by Larry Coryell, the "Godfather" of Jazz/Rock fusion, this new CD reflects influences from 60's Jazz to Classic 70's Blues and Fusion. With music and lyrics by Wolfman, Coryell and Bailey, "Transition" was one of the most important album releases of 2012.
THE BAND: BOB WOLFMAN: GUITAR - Raised in the urban grit of early 70's New York City surely helped to put the "soul" in his sound. Having played with Joe Beck, Chick Corea, Grover Washington Jr., and his lifelong mentor, teacher and friend Larry Coryell didn't hurt either. After playing and recording with every type of band imaginable, he graduated from Berklee College of Music and later opened his famed Wolfman's School of Music.
LARRY CORYELL: GUITAR - Truly one of the greatest of all the Jazz guitar giants ever, Coryell deserves a special place in the history books. The pioneer "Godfather" of Jazz/Rock Fusion, he brought what amounted to a nearly alien sensibility to jazz electric guitar playing in the 1960s. Larry's hard-edged, cutting tone, phrasing and note-bending owed as much to blues, rock and even country as it did to earlier, smoother bop influences. Yet as a true eclectic, armed with a brilliant technique, he is comfortable in almost every style, from the decibel-heavy, distortion-laden electric work to the most delicate, soothing, intricate lines on acoustic guitar.
JAMES CAMMACK: BASS - A world class bassist who has played with legendary pianist Ahmad Jamal continuously for the last 28 years. Cammack has visited more than 30 countries backing Jamal and has toured with singer Nancy Wilson, tubist Howard Johnson, and singer Vanessa Rubin. He has performed in some of the world's most famous jazz clubs such as the Village Vanguard in New York City and Yoshi's in San Francisco; and major jazz festivals, including the Montreal Jazz Festival, Italy's Umbria Jazz Festival, and the North Sea Jazz Festival in Holland.
KENWOOD DENNARD: DRUMS - Woody, as he is affectionately known, is one of the world's top performing and recording drummers. The names of all the giants he's worked with is far too long to list here and reads like an encyclopedia of music icons in Jazz, Funk, Rock, Blues, Pop, and Soul: Miles Davis, Dizzy Gillespie, Greg Allman, Chet Atkins, Quincy Jones, Stanley Jordan, Dave Matthews, JacoPastorius, Charles Mingus, Edgar Winter, Joe Zawinul and on and on.
FERDI ARGENTI: KEYBOARDS - Hands down one of the finest and most versatile keyboardists you'll hear anywhere, Ferdi began his career performing throughout Europe as a pianist, keyboardist, vocalist, composer and arranger, playing with many of the finest Italian and American musicians, most notably Chet Baker, Lee Konitz, Kenny Wheeler and the Artie Shaw band.