New Year's Eve 2019 with Roomful of Blues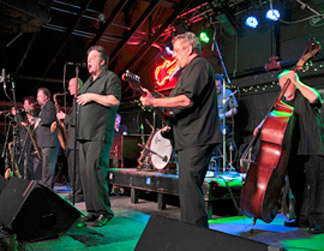 Roomful of Blues - The perfect New Year's Party band.
-
12-31-2019 - New Year's Eve

Because they are simply the best New Year's Eve band on the planet, we are happy to announce another fun filled NY Eve show with the guys who know how to throw a party.
So if you're lookin' for the party to end this truly nutty year, this is the band - and this is the place to do it.
No one really gets you up and going like Roomful of Blues!

Roomful of Blues has been delivering its signature blend of swing, rock 'n' roll, jump, blues and R&B to euphoric audiences all over the world for decades. Blues Revue says, "Roomful of Blues is a sheer joy...contagious, finger-popping, head-bopping grooves...the horns blast loud and proud...explosive and electrifying." The band has earned five Grammy Award nominations and a slew of other accolades, including seven Blues Music Awards. Twice, the prestigious DownBeat International Critics Poll has selected them as Best Blues Band. With their masterful combination of jumping, horn-heavy blues and R&B, it's no wonder why the great Count Basie called them "the hottest blues band I've ever heard."

For the last two decades, Roomful has been led by Chris Vachon, one of the most underrated guitarists in the blues. For 40 years, their hard-charging horn section has been sparked by Rich Lataille on tenor and alto sax. Energizing the band since 2010 is their terrific vocalist, Phil Pemberton. Phil's performances showcase his flamboyant, multi-octave voice, fun-loving attitude and his deep understanding of the era when jumping blues bands were fronted by huge-voiced singers like Roy Brown, Wynonie Harris and Big Joe. They are universally referred to as the "best little big band in America."

"In a class by itself." - Down Beat

"irresistible on the dance floor. - Mademoiselle

"Excellent, marvelous wall-to-wall grooves… between the wicked guitar work and the brassy horn section, things never stop swinging." - USA Today

"Roomful Of Blues plays an inspired, lively and heated brand of rippling, up-tempo, horn-dominated R&B." – Rolling Stone

"Few bands swing the blues more exuberantly than Roomful of Blues…boisterous and relentlessly upbeat." – Entertainment Weekly

* TICKETS INCLUDE DINNER, SHOW, CHAMPAGNE TOAST, HATS, NOISEMAKERS, TAX & TIP & are non-refundable.

** If you book a room at the Devens Marriott (978-772-3030) or Devens Hilton Garden Inn (978-772-0600), we will have a shuttlebus to bring you to and from this show for an additional $18 per person. You can purchase the "Dinner & Show + Shuttlebus" here and your name will be placed on the list for the bus. Have a blast and get home safe.

OPENER: Bees Deluxe - A full-tilt, acid blues collective comprised of Boston-based musicians. Their unique repertoire includes originals and re-interpreted 60s, 70s, and 80s covers from Billie Holiday, Miles Davis, Joe Zawinul, Charles Mingus, B.B. King, Kenny Burrell, Freddie King, Herbie Hancock, Albert King, Etta James, Muddy Waters, The Meters, Little Feat, Ray Charles, Jimi Hendrix, Roy Buchanan, Curtis Mayfield, The Butterfield Blues Band, Derek Trucks, Donny Hathaway, Amy Winehouse, Steely Dan, Etta James, ZZ Top, Robben Ford, Bonnie Raitt, Bobby 'Blue' Bland, SoulLive, Derek and the Dominoes, Robert Cray, Edgar Winter, among many others.