New Year's Eve 2021 with Roomful of Blues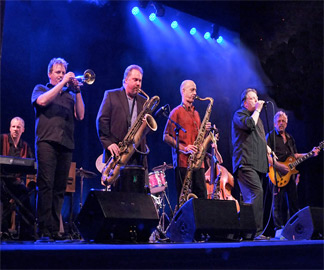 Roomful of Blues - The perfect New Year's Party band.
-
12-31-2021 - New Year's Eve

Because they are simply the best New Year's Eve band on the planet, we are thrilled to be back for another fun filled NY Eve show with the guys who know how to throw a party.
So if you're lookin' for the party to end this long dry spell, this crazy shuttered year,
this is the band - and this is the place to do it.
No one really gets you up and going like Roomful of Blues!

Roomful of Blues has been delivering its signature blend of swing, rock 'n' roll, jump, blues and R&B to euphoric audiences all over the world for decades. Blues Revue says, "Roomful of Blues is a sheer joy...contagious, finger-popping, head-bopping grooves...the horns blast loud and proud...explosive and electrifying." The band has earned five Grammy Award nominations and a slew of other accolades, including seven Blues Music Awards. Twice, the prestigious DownBeat International Critics Poll has selected them as Best Blues Band. With their masterful combination of jumping, horn-heavy blues and R&B, it's no wonder why the great Count Basie called them "the hottest blues band I've ever heard."

For the last two decades, Roomful has been led by Chris Vachon, one of the most underrated guitarists in the blues. For 40 years, their hard-charging horn section has been sparked by Rich Lataille on tenor and alto sax. Energizing the band since 2010 is their terrific vocalist, Phil Pemberton. Phil's performances showcase his flamboyant, multi-octave voice, fun-loving attitude and his deep understanding of the era when jumping blues bands were fronted by huge-voiced singers like Roy Brown, Wynonie Harris and Big Joe. They are universally referred to as the "best little big band in America."

"In a class by itself." - Down Beat

"irresistible on the dance floor. - Mademoiselle

"Excellent, marvelous wall-to-wall grooves… between the wicked guitar work and the brassy horn section, things never stop swinging." - USA Today

"Roomful Of Blues plays an inspired, lively and heated brand of rippling, up-tempo, horn-dominated R&B." – Rolling Stone

"Few bands swing the blues more exuberantly than Roomful of Blues…boisterous and relentlessly upbeat." – Entertainment Weekly

* TICKETS INCLUDE DINNER, SHOW, CHAMPAGNE TOAST, HATS, NOISEMAKERS, TAX & TIP & are non-refundable.

** If you book a room at the Devens Marriott (978-772-3030) or Devens Hilton Garden Inn (978-772-0600), a shuttlebus will bring you to and from this show for an additional $25 per person. You can purchase the "Dinner & Show + Shuttlebus" here and your name will be placed on the list for the bus.
Have a blast and get home safe.

OPENER: The L&M Rhythm Kings offer their own spin on blues, R&B, and roots music while at the same time honoring those traditional forms. The players share the tight, instinctive and spontaneous interplay that only comes with decades of playing together. Their live set shifts effortlessly between hard core blues, R&B, rock, and back again with a single band voice. They're a classic example of the whole being greater than the sum of the parts, yet as seasoned veterans each player is accomplished in his own right.

IMPORTANT: ALL TICKETED SHOWS AT BULL RUN REQUIRE PROOF OF VACCINATION WITH I.D., or PROOF OF NEGATIVE PCR COVID 19 TEST WITHIN 72 HOURS OF PERFORMANCE.