New Year's Eve 2023 with Roomful of Blues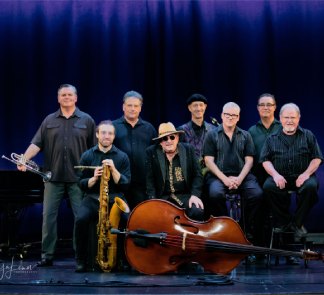 Roomful of Blues - The perfect New Year's Party band.
-
12-31-2023 - New Year's Eve

They say "If it ain't broke, don't fix it."
So why would we change a great thing? They are simply the best New Year's Eve band on the planet, and we are thrilled to bring back the guys who know how to throw a party for another fun-filled NY Eve show. If you're lookin' for the party to celebrate the coming of a new year, this is the band - and this is the place to do it. Because no one really gets your motor running quite like Roomful of Blues!

Roomful of Blues has been delivering its signature blend of swing, rock 'n' roll, jump, blues and R&B to euphoric audiences all over the world for decades. Blues Revue says, "Roomful of Blues is a sheer joy...contagious, finger-popping, head-bopping grooves...the horns blast loud and proud...explosive and electrifying." The band has earned five Grammy Award nominations and a slew of other accolades, including seven Blues Music Awards. Twice, the prestigious DownBeat International Critics Poll has selected them as Best Blues Band. With their masterful combination of jumping, horn-heavy blues and R&B, it's no wonder why the great Count Basie called them "the hottest blues band I've ever heard."

For the last two decades, Roomful has been led by Chris Vachon, one of the most underrated guitarists in the blues. For 40 years, their hard-charging horn section has been sparked by Rich Lataille on tenor and alto sax. Energizing the band since 2010 is their terrific vocalist, Phil Pemberton. Phil's performances showcase his flamboyant, multi-octave voice, fun-loving attitude. On upright & electric bass - John Turner; on piano & B3 - Rusty Scott; on baritone & tenor sax - Alek Rasdan; on trumpet - Carl Gerhard; and on drums - Mike Coffey.

"In a class by itself." - Down Beat

"irresistible on the dance floor. - Mademoiselle

"Excellent, marvelous wall-to-wall grooves… between the wicked guitar work and the brassy horn section, things never stop swinging." - USA Today

"Roomful Of Blues plays an inspired, lively and heated brand of rippling, up-tempo, horn-dominated R&B." – Rolling Stone

"Few bands swing the blues more exuberantly than Roomful of Blues…boisterous and relentlessly upbeat." – Entertainment Weekly

* TICKETS INCLUDE: CHEF'S BOUNTIFUL BUFFET DINNER, DESSERT, SHOW, DANCING, CHAMPAGNE TOAST, HATS, NOISEMAKERS, TAX & TIP. All tickets are non-refundable.

** HOTEL & SHUTTLE OPTION: If you book a room at the Devens Spring Hill Suites Marriott (978-772-3030) or Devens Hilton Garden Inn (978-772-0600), private shuttles contracted exclusively with Bull Run will bring you to and from this show for an additional $33 per person.
You can purchase the "Dinner & Show + Shuttlebus" here and your name will be placed on the list for the shuttle service.
Have a blast and get home safe.

OPENER: TOOTIE PA & HIS BIG FINE THANG - Spreading the joy of New Orleans music to booty-shaking music lovers everywhere.