Rod MacDonald and Robin Batteau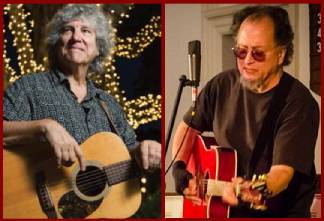 7-15-2022 (Ballroom)

Rod MacDonald is an American singer-songwriter, novelist, and educator. He was a "big part of the 1980s folk revival in Greenwich Village clubs performing at the Speakeasy, The Bottom Line, Folk City, and the "Songwriter's Exchange" at the Cornelia Street Cafe. He co-founded the Greenwich Village Folk Festival. He is perhaps best known for his songs "American Jerusalem," about the contrast between the rich and the poor in Manhattan, "A Sailor's Prayer," "Coming of the Snow," "Every Living Thing" and "My Neighbors in Delray;" a description of the September 11 hijackers' last days in Delray Beach, Florida, where MacDonald has lived since 1995. His songs have been covered by Dave Van Ronk, Shawn Colvin, Four Bitchin' Babes, Jonathan Edwards, Garnet Rogers, Joe Jencks, and others.

Robin Batteau is a Grammy-winning, Emmy-winning, Clio-winning and Oscar-nominated singer-songwriter-soloist and music producer who is perhaps best known as one half of the highly entertaining Buskin and Batteau duo. Six months out of Harvard, after earning a degree in biochemistry, he was signed to his first record deal with Columbia Records. A dozen CDs later he has played his personal style of improvisational violin with everyone from Yo-Yo Ma to Benny Goodman to Bruce Springsteen and has had his songs sung by Whitney Houston, Judy Collins and Paul Newman, to name a few. He has created songs for charities and causes from "World Hunger Year" to "Save the Whales" to Bill Clinton's 1992 presidential campaign to Paul Newman's "Hole in the Wall Gang Camp" for kids.

Rod and Robin will do a 30 min set each, take a break and do a songswap for the second part of the show.
Don't miss this one!