Savoy Brown featuring Kim Simmonds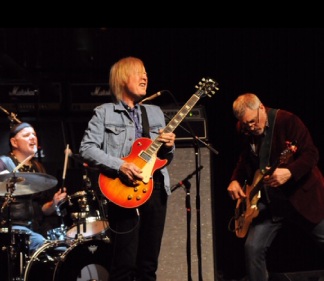 * NEW DATE: 8-11-2022
Due to illness, This show is postponed to August 11, 2022.
Tickets will automatically transfer to the new date.

IMPORTANT: Proof of vaccination, or proof of negative Covid 19 test result within 72 hours is required for entry to all shows at Bull Run.
SAVOY BROWN was one of the first bands from the UK, after The Rolling Stones, to re-invent the blues in the mid-sixties, SB, led by guitarist Kim Simmonds, continues to perform, record and influence today. They helped launch the UK blues/rock movement that paved the way for such acts as Led Zeppelin, becoming part of the framework that launched the rock and roll music of the 1970's. Their influence now stretches into modern rock as we know it today. In 1967 they opened for CREAM's first London gig. In 1969 Kim jammed onstage in London with Jimi Hendrix and Eric Burdon.

Modern rock music had its roots in the 1960's while bands, such as Savoy Brown, helped lay the foundation by combining blues, rock and psychedelia. The band is a veritable history of music, and musicians, with multiple former members going on to form bands such as Foghat, or to play for groups such as Fleetwood Mac, Black Sabbath, The Kinks and many more.

Kim Simmonds, has a star on the Rock Walk of Fame and is recognized globally as one of the world's finest blues/rock players. Says Kim, "I enjoy entertaining, keeping the music alive and giving people inspiration".

Many of the band's original songs continue to be played on radio, TV and in movies. Shows including "CSI", HBO's "Vinyl", and a recent Jimi Hendrix movie biopic, gave life once again to Billboard hits such as "Tell Mama" and "Train To Nowhere".

These songs, and many others (from nearly fifty album releases), all hit high on the Billboard charts while Top 40 albums, such as "Hellbound Train", made the band a major concert headline act.

The band has headlined on all the world's finest stages, including the Royal Albert Hall, Madison Square Garden, Carnegie Hall and both Fillmores.
With 5 decades behind them, they are one of the longest, continuously running Blues/Rock bands in the world today.

Savoy's newest CD, "City Night" is their fortieth album and is easily one of the best old school blues rock albums you'll hear in 2019, created by a legendary British band that shows no signs of slowing down whatsoever.

"Make no mistake about it: Simmonds isn't just up on his game, he gets better and better with age."---Michael Lisi - Gazette Reporter