Vance Gilbert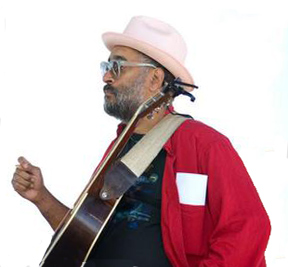 11-3-2018


Vance Gilbert burst onto the singer/songwriter scene in the early 90's when the buzz started spreading in the folk clubs of Boston about an ex-jazz singer who was knocking 'em dead at open mikes. The word spread of this Philadelphia-area born and raised performer to New York; Shawn Colvin invited Vance Gilbert to be special guest on her

Fat City tour

. Gilbert took audiences across the country by storm "With the voice of an angel, the wit of a devil, and the guitar playing of a god" - Fort Worth Star-Telegram.

Gilbert's three albums for the Rounder/Philo label - EDGEWISE (1994), FUGITIVES (1995), and the celebrated, arrestingly sparse SHAKING OFF GRAVITY (1998)- are all essential additions to the American singer-songwriter collection. With guests as varied as Tuck and Patti, Jonatha Brooke, Patty Larkin, Dee Carstensen, Vinx and Jane Siberry, all three albums found significant niches on NAC (New Adult Contemporary) and Non-Commercial A3 (Adult Album Alternative) radio. These discs were followed by the self-released SOMERVILLE LIVE (2000), his live recording lionized by the Boston Globe as the disc "young songwriters should study the way law students cram for bar exams," and ONE THRU FOURTEEN (2002), a stylistically varied tour de force that New York's Town and Village calls "lively, eclectic, electrifying and transcending." Follow that with SIDE OF THE ROAD (2003), a duo album with Ellis Paul, lauded as "haunting, artful, and lovely" by Boston Magazine and nominated for a 2004 Boston Music Award. And who else would name their most recent album "Old White Men" and actually have recorded a groundbreaking, heartbreaking title song to back it up? It's an amazing, must-hear album by an amazing must-see artist.
"He is that rare performer for whom people lean forward in their seats as eagerly between songs as they do during them. These 'Vance-heads' see him over and over again, always expecting to be surprised, never being disappointed." - Boston Globe

VIDEO
VIDEO 2