Ronnie Earl & the Broadcasters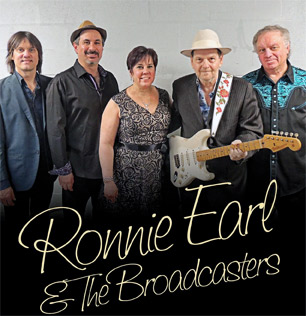 3-12-2022

Ronnie Earl's got it. Whatever it is that makes The Blues dig down into your soul and stir it up. Whatever it is that can hold your attention with six strings and 22 frets and never sound stale or mediocre. Whatever it is that makes you smile in the midst of a very dangerous and heartless world. Whatever it is, he's got it down.
Maybe it was his years with Roomful of Blues. Or maybe it was the years touring with his own bands throughout the world that makes him equally conversant with the styles of Robert Jr. Lockwood, T-Bone Walker, and Stevie Ray Vaughan. Or maybe it's something that you don't get on the road or alone in a room practicing scales. Maybe it's something you find inside yourself and learn to express on guitar, piano, easel, trowel or skillsaw. Maybe he's one of us and we can feel it when he plays, letting us know that, like us, he's been up, down and everywhere in between. Or maybe he's just one of the finest living Blues guitarists on the planet. If you love the Blues and you haven't been to a Ronnie Earl show, do yourself a favor.

The Broadcasters are: Dave Limina on keys, Forrest Padgett on drums, Paul Kochanski on bass and Diane Blue on vocals.

Fans of genuine blues-based music are so lucky to have Ronnie Earl in our midst, still creating, still churning out vibrant, meaningful guitar music. Tip your cap to his 2020 release, "Rise Up" — Ronnie's 13th on Stony Plain Records and 27th of his career. It's another gem from a prolific artist who, over 45 years, has created a deep, lasting body of work. If Rise Up is any indication, he ain't done yet.

In a world of rampant commercialization, computer-derived music, and diminishing standards, the 68-year-old continues to produce top-quality, emotionally satisfying music his way, pleasing listeners and audiences wherever he goes. In Rise Up, Ronnie Earl and the Broadcasters, with guest Peter Ward, take listeners on a 15-song journey through a wide swath of musical influences, Ronnie's passions, and concerns. Jim Hynes (Glide, Elmore, Variety magazines and long-time public radio host) has dubbed Ronnie"The John Coltrane of Guitar," said of Rise Up that Ronnie "channels those emotions and caring attitude into every note he plays. Just feel it and bask in his remarkable way of transforming suffering into joy."
"Ronnie Earl is an incredible musician. He plays with more emotion than anyone else who plays blues, or really anything, today, and he gets me every time I hear him. The Broadcasters are the quality of musicians you would expect Ronnie to be playing with: solid, tasteful, and moving. You can't be better than that." - David Bromberg


IMPORTANT: THIS SHOW REQUIRES PROOF OF VACCINATION WITH I.D., OR PROOF OF NEGATIVE PCR COVID 19 TEST PERFORMED ON SITE.
READ OUR UPDATED COVID PROTOCOL ON OUR WEBSITE.

Other shows you may like: