Erin Harpe Country Blues Duo w/ Mark & Jill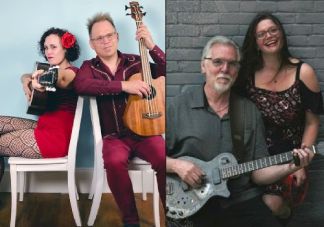 12-2-2023 (Ballroom)

Erin Harpe Country Blues Duo: Guitarist/singer/songwriter Erin Harpe has been compared to legendary blues women like Bonnie Raitt and Rory Block. Living Blues Magazine called her "one of the most dynamic, talented and exciting roots rocking blues women on the scene" and the Midwest Record dubbed her "Bonnie Raitt on modern performance enhancing drugs!"

Recently named New England's "Blues Artist of the Year," Erin gets back to her roots in the acoustic blues for her new Country Blues Duo (a.k.a. "CBD") with longtime partner/bassist Jim Countryman. Appropriately nicknamed "shit-kicking blues" on a recent UK tour, they create a very full, danceable and engaging sound with their down-home duo, which features Erin on acoustic guitar, vocals, kazoo & foot percussion, and Jim on ukulele bass and backing vocals.

"Country blues at its very best... one of the finest fingerpicking acoustic blues singers in the land." - Frank Matheis, Living Blues Magazine

Mark and Jill: Based in Up State New York, Mark and Jill meld their vision and talent for a taste of New Orleans meets Austin. NY Blues Hall of Fame bluesman Mark Tolstrup and sultry Texas singer Jill Burnham come together where the Delta meets the Rio Grande. Over a haunting slide guitar their voices soar and blend in harmony. Mark and Jill bring a fresh original interpretation to the earliest roots of the blues. Their original songs deal with both the hard realties of life and the joys of being alive.
Mark Tolstup is a 2014 inductee into the New York State Blues Hall of Fame. Mark and Jill won the 2022 Capital Region Thomas Edison Award Blues Artists of the Year. They are two time winners of the Capital Region Blues Network Solo/Duo Blues competition and competed in the International Blues Challenge in Memphis in 2019 and 2021.