Bywater Call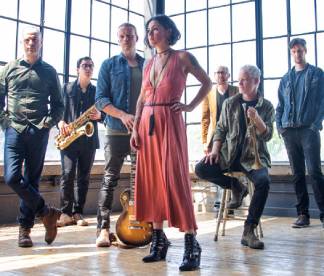 7-6-2023
Meghan Parnell and Dave Barnes are the driving force behind Bywater Call, a powerhouse 7-piece Southern Soul, Roots Rock band out of Toronto, Canada

Since Bywater Call was formed in 2017, they have been

Maple Blues

and

Independent Blues Award

nominated and have made waves in the Canadian Festival Circuit. The band has also had the opportunity to extensively tour Europe, including most recently in May and June of 2022, featuring a mainstage appearance at the Netherlands' premiere blues festival MOULIN BLUES. Performances there have been praised in Dutch and German media, with references to Meghan as one of the best singers in blues and roots today. They will be returning to Europe in Fall 2023.
The band will also see its debut south of the border in the USA fall 2022.

In November 2021, Meghan was a featured performer at the

Women's Blues Review

at Toronto's historic Roy Thompson Hall.
Bywater's much anticipated sophomore album was released September 2, 2022.
For those who have been following the band, an evolution in sound and concept can be heard with this new chapter. And yet, the core values of raw emotion, strong musicianship and the aim to create an exciting, powerful, and moving experience for listeners remains ever present.
Bywater Call saw the release of their debut album in November, 2019 in Canada, USA, Europe and Australia.
Born out of a love for southern soul, blues and roots music and a passion to create a powerful and moving experience for listeners, Bywater Call is completed by Bruce McCarthy on drums, Mike Meusel on Bass, John Kervin on Keys, Stephen Dyte on Trumpet and Julian Nalli on Tenor Sax.
Meghan Parnell's voice is infused with the velvet growl of Joan Osborne, Janis Joplin and Joe Cocker. Behind her Bywater Call the band are a tight funky monster locked to the beat … the music is muscular and full with a smile on its face and a spring in its step." – Marc Higgins, FATEA, UK
"The powerhouse voice of Meghan Parnell and the slide guitar master guitarist Dave Barnes form the basis of Bywater Call. Where things are still somewhat civilized on the record, Meghan goes completely wild live vocally. What a set of lungs and concrete vocal cords this woman must have." – Blues Magazine

Video 1 -
Video 2