Jackie Venson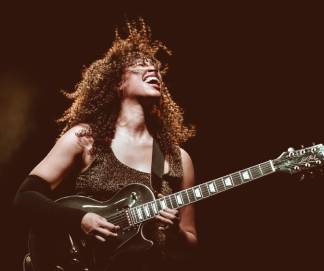 6-18-2023
Jackie Venson is a multi-instrumentalist, singer/songwriter known far and wide for her complexly beautiful music and blazing guitar skills.
Born and raised in Austin, Texas, Jackie has traveled the world playing to massive crowds both as a headliner and as support for major acts such as Gary Clark Jr, Melissa Etheridge, Aloe Blacc, Citizen Cope to name a few. With the disruption of the COVID-19 pandemic, the cancellation of her entire tour schedule, and the wave of social change sweeping across the country in 2020, Jackie committed herself to releasing more music than ever before, connecting with her fans directly and speaking up about the change she wanted to see in her city and country.
Since then, Jackie has released 2 studio albums, 2 live albums under her name and several electronic albums under her side project titled Jackie the robot. During the pandemic, Jackie Venson also made her National TV Performance Debut on Austin City Limits 46th season, a huge honor for the native Austinite. Venson's most recent release, "Love Transcends", Venson firmly established herself as a sonic force to be reckoned with out of Austin, Texas.
"Jackie Venson is truly an Austin legend in the making." - Forbes
VIDEO 1 - VIDEO 2