Clay Melton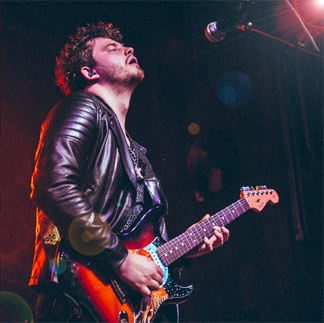 5-4-2023
Clay Melton: Blues-rock prodigies are a special breed. They live and breathe the fiery swagger of electric guitars and the irresistible allure of rhythm-soaked sounds. That's Clay Melton's musical calling in a nutshell. At only 27, the Louisiana-born and Texas-based blues-rocker has already spent 14 years performing live. His powerfully raspy voice and wicked guitar licks leave no doubt he's grown up in the school of barroom blues-rock.
Clay's recent release, "Back to Blue" (July 2021), is being spun on more than 160 radio stations in the U.S. and abroad. As of August 21st, Roots Music (the #1 independent music chart in the world) ranks Clay on the Blues Rock charts with the

#1 song in the world

for the title track Back to Blue,

#9 album in the world

, and

#7 album in Texas

for all genres.
Back to Blue is Melton's follow-up to 2017's critically acclaimed, full length debut "Burn the Ships" which climbed the charts to

#5 on Billboard Heatseekers

. Back to Blue boasts production and engineering credits by Grammy-winner Danny Jones (Stevie Ray Vaughan, Patti LaBelle, Etta James) as well as Clay himself.
Clay Melton is quickly establishing himself as a rising star, most recently opening for Grand Funk Railroad on the Chevrolet Main Stage at the State Fair of Texas, and sharing the stage with Sir Earl Toon, of Kool & The Gang fame.
Past credits also include opening for blues-legend Robert Cray and platinum-selling artist Chris Daughtry.
"The next-generation of Joe Bonamasssa." - Tom M Tranchilla - KPFT 90.1 FM Houston
"Blues and Rock & Roll is alive and very well, courtesy of Clay Melton." - Hollywood Digest

VIDEO