Phriends Of Phil: a tribute to Phil Lesh and friends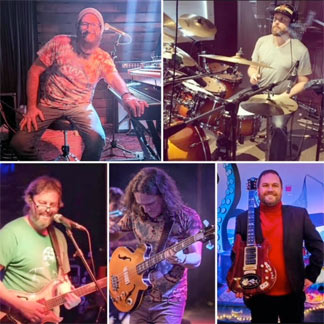 4-15-2023
This phantastic assembly of musicians called together by Jim Stevens is inspired by the legendary Phil Lesh & Friends shows from San Francisco's Warfield Theater in April of 1999.
Conjuring the combined music and magic of Phil & Friends with Phish flavor, this band is a dynamic tribute to the time when these musicians collided.
This lineup features; Brian O'Connell (Arukah/Uncle Sammy ) on bass guitar and vocals, Keir Anzelmo (Dire Wolf/Don't Let Go) on guitar and vocals, Aaron Morey (Skyfoot) on percussion, Dan Cormier (A Phine Connection) on keyboards and vocals along with Jim Stevens (A Phine Connection) on guitar and vocals.
Experience the synesthesia at The Bull Run on April 15th. 2023.